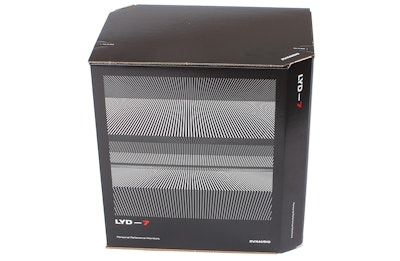 DS Smith worked closely with Dynaudio to come up with an eye-catching design incorporating graphics and detailed printing that demonstrated quality throughout. The packaging was developed using a "cutting corners" technique that gives the packaging a dynamic appearance. The B- and C-flute double-wall construction makes it extremely robust. Preprinted linerboard is printed in three colors on an offset press.
"When the solution was unveiled to us, we were really excited and pleasantly surprised by DS Smith's ability to think outside the box, to inspire and be innovative," says Mads Aagaard Jensen, Senior VP Marcom at Dynaudio. "We are confident that the new packaging will make Dynaudio products even more visible in shops and that it will help deliver them to our customers free of damage."
The new packaging also reduces the quantities of the materials used without jeopardising quality or strength. It is easy to pack in the packing process, meaning it will help reduce packing, warehouse management, and shipping costs for Dynaudio.
Companies in this article