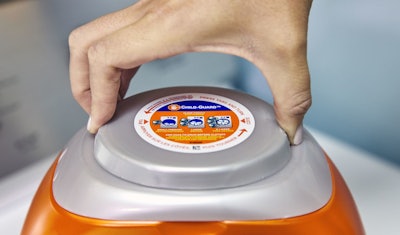 In 2013, as the single-serve laundry detergent packet market began to take off, Procter & Gamble made news when it introduced a "child-deterrent" lid with a latch on tubs for its Tide PODS product to discourage children from accessing the toxic pacs. With the introduction in summer 2017 of its Child-Guard™ tub with squeeze-and-twist lid, P&G now ensures its tubs are child-resistant as well. The packaging is the result of three years of R&D and follows on the heels of the successful launch of a flexible pouch with Child-Guard zipper in spring 2016 for Tide PODS and Gain Flings.
"Nothing is more important to us than the safety of the families who use our products," says Sundar Raman, North America Vice President of Fabric Care for P&G. "Since last year's launch of the innovative Child-Guard bag for liquid laundry pacs, we've been working hard to launch this same technology for our tubs. Knowing that access is a key factor in accidental exposures, we've made the new Child-Guard tub easy to close, but harder to open so parents and caregivers can both conveniently and safely store the product, further driving down accidents. With this key change, child-resistant packaging will now be available for all of our laundry pac products."
During the three-year project, P&G conducted in-depth consumer research, product development, and testing, ultimately designing an injection-molded polypropylene lid that requires consumers to squeeze both sides while simultaneously twisting it to remove.
According to Elizabeth Kinney, Senior Communications Manager for P&G North America Fabric Care, the lids were put through internal and external evaluations with hundreds of children and families to ensure they meet the Poison Prevention Packaging Act's child-resistant criteria. "This means that in testing the lid with children under the age of six, more than 90 percent of them were unable to open it, even after being instructed in exactly how to do so."
For adult consumers, opening instructions are printed on the lid in English and French, to meet the needs of U.S. and Canadian consumers. The package also carries warning labels on the front on the back of the tub, advising parents and caregivers to keep the product up, closed, and away from children.
The lid is being used on tubs of Tide PODS and Gain Flings liquid laundry detergent pacs; the Child-Guard zipper, from Presto Products, is used on flexible pouches for both of these products as well.
The tubs were introduced in some retail locations in summer 2017. Kinney says full conversion will vary by store, in a phased rollout. "But we expect many retailers will carry the new Child-Guard tubs by the end of 2017," she says.
Companies in this article