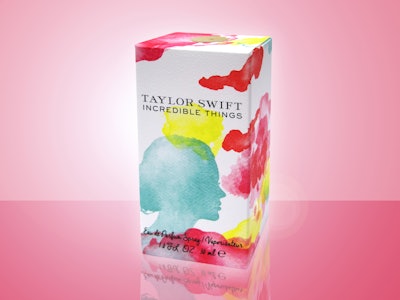 Elizabeth Arden's Taylor Swift Incredible Things carton uses a textured, felt paperboard and rich palette of watercolors that transform inspired graphics into a work of art that beautifully complements the primary container inside—an opaque white bottle, decorated with a watercolor print of Taylor Swift's silhouette profile.
The colorful carton earned a Silver Award in the "Folding Cartons" category for Diamond Packaging at the 28th annual Gold Ink Awards competition, produced by Printing Impressions magazine.
Winners were chosen from more than 1,000 entries submitted in 50 different categories. Entries were judged on print quality, technical difficulty, and overall visual effect.
The carton was converted utilizing Neenah Paper Royal Sundance Brilliant White Felt paperboard. It is offset-printed with seven colors in-line with UV matte coating. The matte coating conveys the soft, natural aesthetic of the design.
A gold foil-stamped and multi-level embossed "13" medallion on the top panel reflects the significance of the lucky number to the music star and matches the fragrance bottle's finely crafted gold cap, which is also embossed with her signature "13."
The combination of colors and textures create an irresistible sensory presentation that stands out in the retail environment and captures the feminine, youthful vibe of Taylor Swift and her international fan base.
Companies in this article