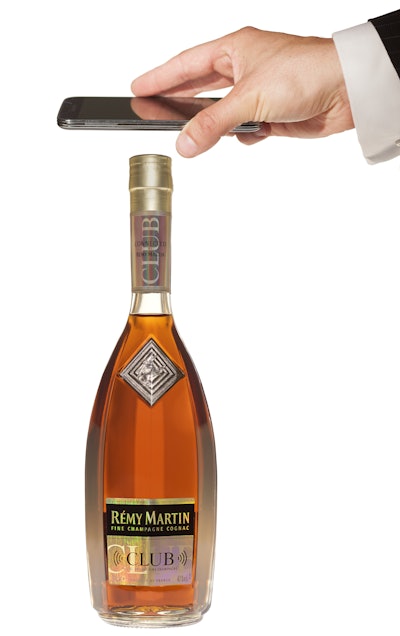 French spirits maker Rémy Martin has introduced a new bottle for its premium Fine Champagne Cognac to the Chinese market that enables secure authentication, tamper evidence, and enhanced consumer engagement with the brand via NFC technology. The Rémy Martin Club Connected Bottle incorporates a high-security, tamper-proof NFC tag from Selinko into the capsule of the bottle that consumers can connect with using Rémy Martin's Android smartphone app.
Rémy Martin Digital Director Arjan Ackerman explains that the company looked at different technologies for the new bottle, such as Apple's iBeacon, holograms, and QR codes, "but only NFC was able to connect directly to consumers and ensure 100-percent secure authorization, at an attractive price."
The NFC technology is embedded into the capsule, which is constructed of a non-metallic material, and is applied along with the capsule to the neck of the bottle. To authenticate the product, consumers tap the top of the bottle with their smartphone, and the Rémy Martin app instantly indicates if the bottle is genuine and sealed, or if it has been resealed. Once the consumer opens the bottle, the NFC tag emits a different signal, indicating the change from "sealed" to "opened." If the consumer taps the bottle again, they become eligible to earn points toward the toward the Rémy Martin engagement program.
Explains Rémy Martin Executive Director Augustin Depardon, "Not only does the Rémy Martin Club Connected Bottle guarantee the authenticity of the product, but also—and this is the exciting innovation—it allows us to communicate directly with our consumers. Rewards, events, special offers: Our communication can now be completely aligned with our clients' preferences for optimal relevancy."
To signal the interactivity of the Club Connected Bottle, Rémy Martin added some simple creative flourishes to the bottle label, including WiFi signals on the front panel and the word "Connected" on the neck label. The words "Tap Phone Here" are printed on the top of the cap to instruct users on how to connect with the bottle, "and the experience triggers from that moment onward," says Ackerman.
Rémy Martin chose to launch the bottle in China first because its Club brand is celebrating its 30th anniversary there. "Plus, it is a very highly connected country, where our audience is very technologically savvy," adds Ackerman.
The Club Connected Bottle carries the same price as the standard Club bottle: 643 RMB, or US$101.