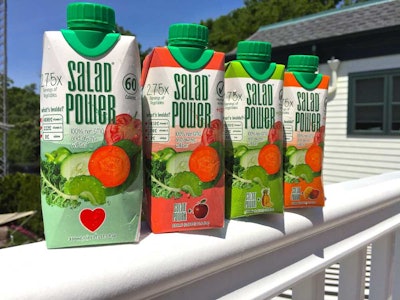 Packaged in a 330-mL Tetra Pak carton, SaladPower is jam-packed with 2.75 servings of vegetables. Every carton of 100 percent juice includes kale, carrot, spinach, tomato, celery, green bell pepper, and cucumbers, while some varieties contain fruit as well. SaladPower is available in four flavors: Just Veggies, +Mango, +Apple and +Pineapple, with a suggested retail price of $2.99 per bottle.
"We put only the best ingredients into SaladPower," said Stephan Lotfi, CEO. "We use sustainably grown non-GMO vegetables and fruits, along with naturally sourced vitamin C for an extra boost, and we make sure our price point stays reasonable. There's no funny business in our juices because simple ingredients always work best."
Lofti adds that SaladPower's packaging was carefully chosen to reflect these values of providing a natural, affordable, and nutritious juice. "By using a Tetra Pak aseptic carton, the product is better protected against light and oxygen, meaning the nutritional value of the vegetables and fruits are maintained and there is no need for preservatives or artificial ingredients," said Lotfi.
It also was important that the SaladPower packaging be eco-friendly. Tetra Pak cartons fit the bill, says Tetra Pak, because they are mainly made from a renewable resource – paper made from selectively harvested, regrown trees – and are recyclable.
SaladPower is currently available online through Vegan Cuts and Ryze.
Companies in this article