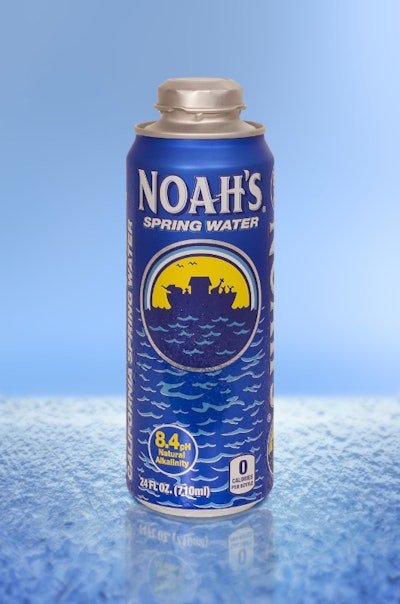 Healthy, clean, optimistic, natural, and sustainable: These are the qualities that Noah's Water is working to convey with a new resealable aluminum can for its spring water. Noah's began using the 24-oz Cap Can from Rexam with closure technology from Dayton Systems Group (DSG) in July 2014, becoming the only bottled water available in this style of container.
The Cap Can is made from an aluminum can body produced and printed on one of Rexam's high-speed can manufacturing lines and then transformed into a resealable container by seaming on a Cap Can end and DSG's 38-mm lug thread closure. The DSG lug thread technology is achieved by integrating DSG's patented tool and die systems into Rexam's necking equipment.
"There are so many reasons why this package just makes sense for our unique spring water," says Anthony J. Varni, President/CEO of Varni Brothers Corp., Noah's parent company. "It provides a generous 24-ounce portion that is resealable, so it can be taken on the go and reused. Refillable aluminum bottles can cost anywhere from $5 to $20, and they don't come with anything inside of them. This Noah's Spring Water retails for under $2, and it contains the best natural spring water available."
Noah's water comes from Adobe Springs in California, and features a natural 8.4pH quality and 110 mg of magnesium per liter—nearly 20 times the amount found in other bottled spring waters. According to Noah's, researchers have found that magnesium is an essential mineral providing substantial health benefits.
The can is printed by Rexam in six colors on a dry offset printer, decorated with graphics designed by Anthony Varni. While elements such as a "Circle Noah's Ark" logo and the font for the Noah's brand name were retained from its 12-oz aluminum Sleek cans with tab closure used for its sparkling water varieties, others were eliminated for a "less-busy, bolder design," explains Varni. "We added a peaceful look of water ripples on the bottom half of the front panel to portray a serene and refreshing water image," he says. Colors include bold blues with bright, contrasting white, yellow, and silver highlights.
To accommodate the new can format, Varni Brothers installed new filling and capping equipment in 2014 that will be used for a variety of beverages, including energy drinks, carbonated soft drinks, mixers, and even wine and hard cider products. In June 2015, the company introduced its Cock'n Bull Ginger Beer brand in the 24-oz Cap Can.
For Noah's Spring Water, use of the Cap Can has been very auspicious. "During the short time we have had our 24-ounce Noah's Spring Water on the market, the response has been fabulous," Anthony Varni says. "People have appreciated the coldness and the feel of the can. They like the 24-ounce size and the fact that it is resealable. They love the mouth feel and flow rate of the larger opening. They are drawn to read what is on the can body and are attracted to the quality bullet points and the brand details. The 24-ounce Rexam Cap Can has gotten our brand noticed after 23 years in PET."
Companies in this article