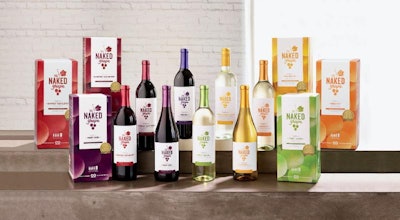 The Naked Grape Wine, Modesto, CA, has launched its new 3-L box—a package that the company says is the most-awarded 3-L box wine in U.S. competitions, with 65 gold medals and more than 330 total awards to-date. The 3-L box is said to deliver the same high-quality product found in The Naked Grape glass bottles, all in a compact, convenient package that is fully recyclable across the country from bag to box—the first and only of its kind, according to the company.
"We are seeing a resurgence in the popularity of box wine today, with the number of new high-tier 3-L boxes growing 35 percent since 2009," says Stephanie Gallo, Vice President of Marketing for The Naked Grape. "The box format preserves the freshness of the wine and allows people to enjoy it in more places where glass can't go. Our new three-liter box has the same great taste you'll find in our bottles, but with less waste."
A 3-L box of The Naked Grape wine contains the same amount of wine as four bottles and stays fresh for up to four weeks after opening, allowing for easy enjoyment of single servings. The convenient package is also recommended for large gatherings, picnics, and places where glass is prohibited.
To ensure all materials found in The Naked Grape wine box packaging—from the paperboard box to the inner bag and spout—are fully recyclable across the country, The Naked Grape has partnered with TerraCycle. Once consumers finish the wine, they can send the empty packaging to TerraCycle for free to give it a second life through recycling or upcycling, where it may be used to construct park benches, bike racks, recycling bins, and more.
"Americans recycle or compost just over 34% of the waste they generate," says TerraCycle CEO Tom Szaky. "We count on companies like The Naked Grape to try to help increase that number by giving consumers a way to recycle packaging that might otherwise get thrown away."
The Naked Grape 3-L box will be available nationwide wherever wine is sold beginning in April 2014. The wine will be available in Pinot Noir, Chardonnay, Pinot Grigio, Cabernet Sauvignon, Harvest Red Blend, and Moscato and retails for approximately $20.

Companies in this article