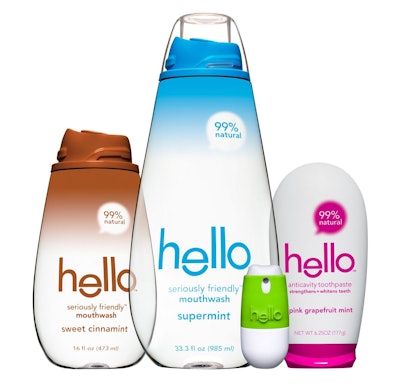 Talk with Hello Products LLC Founder and CEO Craig Dubitsky and you'll quickly sense the passion and energy he has for his company and its products, and the importance of packaging in building the success of the hello line of oral care products, which includes mouthwash, breath spray, toothpaste, and toothbrushes.
Dubitsky waxes poetic in describing "packaging as art," saying, "packaging serves as everyday art that is personal in that you can touch it, which you really can't do with many pieces of art. If you can elevate the everyday by making it a pleasure to use, then it's a big win." And that's the philosophy that's gaining this Montclair, NJ, company global recognition.
"The oral care market is about a $30 billion category," estimates Dubitsky. "It's controlled by a handful of huge companies. With hello, we seek to bring a new conversation to oral care, moving away from the historical talk of killing and fighting to focus on greeting. Packaging is vital to the integrity of that conversation. While the oral care aisle is an array of harsh lines and aggressive shapes, Hello wanted to focus on being easy on the eyes and the mouth. So we needed a partner that could pull it off…and [do so] well inside the usual long lead times. Speed is a core competency of ours, and we were happy that TricorBraun was able to make it happen as fast as we wanted."
TricorBraun, a provider of rigid packaging and engineering, along with its partners and vendors, provided the breakthrough packaging vital to the brand's national launch in March 2013.
Dubitsky, whose previous experience included working with Method's cleaning products and packaging, selected TricorBraun to help bring to life the hello brand's vision of a modern, no-compromise oral care range, and to do so in record time—about six months from conception to commercial launch, he notes.
Assembling 'Team Hello'
Hello partnered with BMW DesignworksUSA, the global design consultancy of BMW Group, to create the motifs and individual designs of the packaging. From there, Hello turned to TricorBraun Design and Innovation to take the visionary packaging and commercialize it in a race to market that resulted in 20 molds completed in six months.
"Meeting the deadline was an outsized challenge requiring a uniquely positioned packaging partner that was willing to commit a substantial number of specialists to a single customer," says Andrew Olsen, TricorBraun's Packaging Consultant. "TricorBraun's 'Team Hello' was able to maintain a sole focus: getting to market on time and in full. And we're proud to be a part of hello's early success."
The dedicated Team Hello at TricorBraun consisted of 18 company professionals, including engineers and industrial designers who selected materials, created models, and evaluated molds to ensure the performance of the packaging and the components on the filling lines and through assembly, distribution, and consumer use. Selected suppliers worked across three packaging platforms—injection molding, extrusion/blow-molding, and injection/stretch blow molding—to create the custom hello packaging components.
As part of the development, TricorBraun evaluated more than 40 vendors before using 11 strategic suppliers that provided tooling, manufacturing, decorating, components, assembly, and transportation. Through this process, TricorBraun's Team Hello coordinated the efforts of the more than 100 individuals throughout North America and Europe who were working on the project.
Passionate about packaging
Dubitsky recognizes he sometimes is "obsessed by packaging." Despite the speed-to-market focus, he takes pride in developing packaging to delight consumers. He points out three examples:
• Toothpaste: "Many toothpastes come in a carton and we didn't want to use any secondary packaging. And unlike squeeze tubes, we wanted our toothpaste to be in a squeezable bottle that felt great in your hand, had a soft touch, and looked and felt every bit as good after it was empty of product as it did when you first bought it on the shelf. To do that, our tube uses six plastic layers, including EVOH [ethylene vinyl alcohol]."
• Mouthwash: "Studies show that most people don't pour mouthwash into a cup or glass, but they swig and rinse from the container. We didn't want consumers to swig from a container and feel the threads of the bottle, so we carefully designed a closure with a pull-tab like you might find on a milk carton. It provides a level of tamper evidence and has a functional and elegant feel to drink from."
• Breath spray: "I wanted our custom bottle to make a specific click that would feel good in your hand. It took a 1/20,000th of an inch adjustment to make it just right."
The company's hello brand of seriously friendly™ oral care products includes a range of 99% natural toothpastes, mouthwashes, and breath sprays in "delicious flavors and beautiful packages, as well as a toothbrush made with biodegradable corn resin and recycled plastic.
Hello toothpaste features a unique "tottle" packaging structure, an upside-down squeezable bottle that maintains its shape and doesn't crumple up with use, like standard toothpaste tubes. The packaging features a multilayer polyethylene and EVOH composition with a soft-touch exterior resin. A polypropylene butterfly-hinge snap-on closure supports the container in an inverted position, allowing gravity to aid in the expressing of product. The novel pastry bag tip in the opening dispenses toothpaste in a unique pattern, a "moment of delight" for consumers. Additionally, the filled tottle does not require the secondary packaging, but rather a small tamper-evident band, which all help to make it more efficient in terms of the space it requires on the shelf.
Hello mouthwash employs a clear PET bottle, in both a 473- and 985-mL fill sizes that features a unique curved shape and swig-friendly flavor ring at the top, which gives it a distinct presence on shelf. TricorBraun and its partners created custom injection-molded preforms that are then reheated to create an injection/stretch blow-molded final bottle. The bottle's custom closure features a non-removable PE flavor ring that snaps onto the bottle and tamper-evident pull-tab closure, the first of its type in the oral care category. A clear-clarified PP cup/overcap threads onto the flavor ring. The base of the bottle is embossed with hello's trademark slogan—seriously friendly™—with a "wink" to those who notice it.
• Hello breath spray is sold in a 7-mL bottle is fitted with a three-piece sub-assembled actuator and pump engine that dispenses just the right amount of product. The collar of the product twists 30 deg to lock in place with an audible click for leak-proof portability, and it's embossed with the hello logo, making it easy to feel in a purse or pocket.

Each of the above products is available in four flavors—supermint, mojito mint, pink grapefruit mint, and sweet cinnamint—each with its own color palette. TricorBraun partnered with colorant shops and decorating houses to ensure the screen printing and color matching that gave each flavor its unique image.
"Decorating provided its own set of challenges," says TricorBraun's Olson. "Along with custom packages, especially ones with these unique compound curves and shapes, came custom decorating processes and rounds of tweaks."
More product than advertised
Creating inviting, fun packaging is evident even on the company's www.hello-products.com website. Visit the company/FAQ part of the site, and you'll see the question, "Sure it looks cool, but why can't I get everything out of the toothpaste package?"
The answer is every bit as refreshing as Hello Products' oral care product line: "We've tried to think of everything, but unfortunately, even our insanely thoughtful and talented team of designers and engineers couldn't find a way to make every single delicious tiny-fraction-of-an-ounce come out of a toothpaste package. So we did the next best thing: We actually put a little extra in the package, a bit more than the 6.25 ounces it says on the front. Oh, and don't worry, the cost of the additional paste is on us; it wouldn't be friendly to charge folks for that."
The answer to another frequently asked question, "Where is hello made?" also reveals a bit about the brand's packaging: "Hello is made in the friendly USA. Our state-of-the-art manufacturing facilities meet all FDA requirements, and are staffed with pros who want to help make the world a friendlier place. The overwhelming majority of our packaging is also made domestically, with a small balance coming from friends in Canada and Italy."
'Audacious' start builds global interest
Dubitsky readily discusses the focus on packaging in the company's branding strategy, but he prefers not to reveal packaging line, equipment, and material specifications.
He says, "We package in U.S. FDA-approved facilities to create packaging that is fun, friendly, simple, and clean. The packaging helps Hello products with performance, precision, and passion. We've had the audacity as a start-up company to enter the market and we plan to expand distribution nationally this year, at Walgreens, Duane Reade, Target, and Kroger stores. We've gone from zero to some 18,000 retail points of distribution."
In coming years, don't be surprised to see hello oral care products in distribution around the globe. Dubitsky excitedly reports that well-known retailers from Asia, South Africa, South America, Central America, and the Middle East have approached Hello Products LLC about potential distribution agreements.
Editors Note: This is an expanded version of a story first posted to www.healthcarepackaging.com Oct. 15, 2013.
Companies in this article