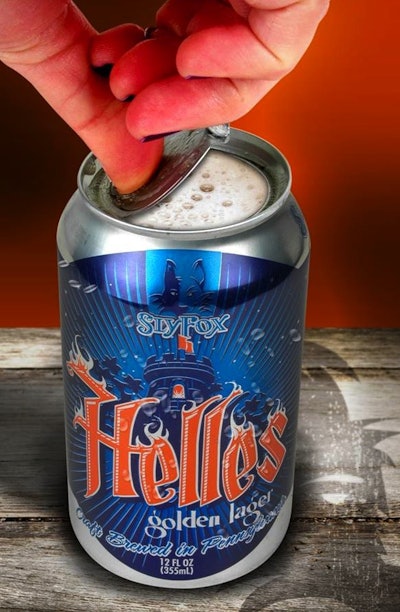 This innovative can end was eveloped by Crown Holdings, Inc. The entire lid of the can is removable, turning it into a drinking vessel and eliminating the need for separate glassware.
"This technology allows the full flavor and aroma of the beer to hit the drinker's senses and makes the can an even more appealing package for outdoor activities and situations where you want to be able to move around and sip your beer easily," says head brewer Brian O'Reilly.
Sly Fox beer with the 360 End™ is debuting at the Craft Brewers Conference in Washington, DC, where a special one-off brew, 360 IPA, will be available for attendees at the Crown Holdings booth (Booth #1129). While Helles is the only style scheduled to use the 360 End™ as a standard, the brewery's flagship Pikeland Pils will be offered in the same format exclusively at Citizens Bank Park, the home of the Philadelphia Phillies, this spring and summer.
"We're very excited to partner with Sly Fox on the first commercial application of Crown's full-aperture end in North America," says Tim Lorge, Vice President, Sales at Crown Beverage Packaging North America, a business unit of Crown Holdings, Inc. "Craft brew enthusiasts want to enjoy their beer as it was meant to be experienced – whether at home or at an event – and the 360 End™ makes the beverage can the perfect vessel to do just that."
Beverage cans offer another key benefit: sustainability. Metal is 100% recyclable and infinitely recyclable, meaning it can be reused again and again with no degradation in quality. The full-aperture end created for the Helles and Pikeland Pils cans takes sustainability one step further by using Crown's patented SuperEnd® beverage ends. The ends use 10% less metal than traditional beverage ends and make cans even more environmentally friendly.
Companies in this article