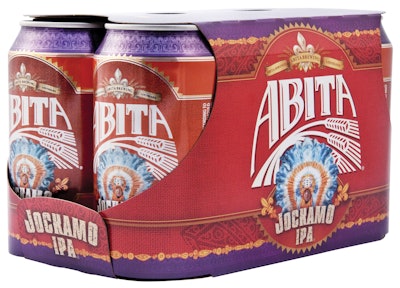 By some estimates, 152 million aluminum cans are recycled every day. In fact, according to the Can Manufacturers Institute, the aluminum can is the most recycled beverage container in the world, with a recycle rate of 65.1% in the U.S. and 67% in Europe. CMI calculates that it takes just 60 days for a can to go from the consumer's recycling bin back to a store shelf.

No wonder so many craft brewers once committed almost exclusively to glass bottles are adding cans to their packaging mix. Not that they're replacing glass. They're just offering consumers an option.

The appeal of recyclability is just one driver behind the growth of aluminum cans. Shelf impact, light-weight portability, and shatter-resistance are others. And it's not just craft brewers who are catching the can craze. Wine, spirits, water, energy drinks—the list goes on.

So it seemed like a good idea to examine this trend from a Shelf Impact angle. We begin in the piney woods just north of New Orleans, where Abita Brewing Co. (1) is so smitten by cans that it recently installed a Krones canning line with a 36-valve filler capable of filling 24,000 cans/hr. Company president David Blossman describes the background behind Abita's move to cans, which are supplied by Ball Corp.

"For years on end consumers had been associating craft beer exclusively with glass bottles. Beer from cans always conjured up an imagined taste of metal. But not only have acceptance levels changed, the technology for aluminum cans is quite different nowadays, too. We're relying on present-day cans offering a quality solution for protecting the taste of our beers.

"We could see that others in different parts of the country, some of them well established brewers, were coming out with cans. And the consumer perception of cans was changing from that of a package that was of lesser quality than glass to that of a package that was equal in quality. That perception issue still has a ways to go, but it is a lot different now than it was five years ago.

"When it came to graphics, the can certainly offered a bigger platform and more space. We wanted a better look for our cans than what was normally out there, so we went with a Ball process called Eyeris that increases the dots per inch. We're very pleased with the print definition you see in these cans."

As for the design itself, Blossman says the idea was to stay consistent with brand imagery that Abita had already established in the consumer's mind. Designer Jay Connaughton of Innovative Advertising LLC elaborates on this design mandate.

"There are certain nuances that come with designing for a can. But at the end of the day we wanted the brand elements to represent the culture, history, and sophistication of the City of New Orleans, which is really paramount to the 
Abita brand."

The increased dots-per-inch capabilities of the Eyeris technology proved especially helpful in one particular area of the design. "We have some wrought iron architectural elements at the top of the can that are consistent across all SKUs," says Connaughton. "We spent a lot of time in the pre-flight phase making sure that it looked the way we wanted it, that it was vibrant yet at the same time still had a sense of elegance and sophistication to it. We also spent a good deal of time choosing the right metal to print on, because there are different levels of brightness when it comes to the aluminum you specify. Ball was terrific throughout the whole project. We knew they were good, but we told them right up front that we expected to push the envelope on this project."

Meanwhile, further north

Many miles north of Abita in North Conway, NH, Moat Mountain Smokehouse and Brewing Co. (2) has also heard the siren song of aluminum. Its first can, launched in the summer of 2011, was Moat Iron Mike Pale Ale. December of 2012 saw the introduction Bone Shaker Brown Ale. Both are in 24-oz cans from Rexam.

"Craft beer consumers are embracing aluminum can packaging in increasing numbers," says Steve Johnson, Moat Mountain owner. "At the same time, there is continued growth in single-serve packaging. By working with Rexam we were able to embrace both these trends and bring our beers to market in a 24-oz can that consumers love."

Unlike Abita and its automated Krones canning line, Moat Mountain opted for a semiautomatic filler from Cask Brewing Systems. An operator places two cans beneath the two filling nozzles and hits a foot pedal to dispense beer. Cans then are conveyed automatically a few feet to a single-station seaming system that was also supplied by Cask.

"We're in a hiking, climbing, biking, river-rafting area," says Bill Lee, business development manager at Moat Mountain. "Being environmentally friendly with our package just made sense. With lightweight cans that don't break, we can pack them into the wilderness and pack them right back out."

Assisting on the design of the can was Nancy Evans of Brown & Co..

"The design scheme behind the 24-oz cans was to emphasize and showcase the Moat Mountain branding and colors in a strong and bold way," says Evans. "We utilized the existing mountain graphic from the Moat Mountain logo throughout the layout to solidify the look and feel for the cans plus to create a consistent 'family' layout for the ability to roll out different flavors in the future. We went for a look that would reach the existing Moat Mountain customer plus have it be 'universal' enough to appeal to a larger and broader audience. We targeted down-to-earth, male and female, 20- to 40-year-olds who are active and outdoorsy and who like good beer."

Water, too

Abita and Moat Mountain are just two of the craft brewers who now have cans in the marketplace. According to Megan Daum of the Can Manufacturers Institute, there are quite a few others, 775 to be exact. Most of them appreciate three key attributes:

• 
Aluminum cans are sustainable because they're recyclable, made from recycled content, and lightweight in transport.
• 
Cans provide 100% protection against light, so they keep beer fresher longer.
• 
Cans maximize the amount of space available for graphics.

It isn't just craft brewers who are finding solutions in cans. Consider Vichy Catalan (3), a leading water producer in Spain that launched a 33-cL aluminum can last November. The firm is targeting young consumers with cosmopolitan and active lifestyles in the 16 to 35 age group (see video at www.bit.ly/pwe00467).

Previously, only glass bottles were used by the firm. By marketing its products in cans, Vichy Catalan aligns itself with two market megatrends: health and convenience. It's even using the new packaging format to introduce a brand new product: Vichy Catalan Limon, a mineral water with natural lemon flavor.

"Beverage cans keep their contents cool and fresh for a long time, they are unbreakable, and they are very light in weight, making them the right container for products designed to provide refreshment any place and any time," says Myriam Galmes of Ball Packaging Europe, whose plant in La Ciotat, France, makes the cans for Vichy Catalan. "Cans also have an image as a cool, lifestyle packaging choice, giving traditional brands and products a means of reaching young consumers." Be sure to see the brilliant print ad that Vichy Catalan is running: www.bit.ly/pwe00469.

Making this launch a little extra intriguing is the Beunet cap (4), a biodegradable and recyclable overcap designed to protect the drinking area from dirt and germs. It's made by a Spanish company called Reset World, a firm whose entire reason for being, we're told on their Web site, is "defined by ecological and social consciousness."

According to Javier Garcia, operations manager at Reset World, the Beunet caps used on the Vichy Catalan cans are injection molded of a polypropylene whose additive makes them photodegradable and oxobiodegradable. They also have a hinge feature that lets consumers "reclose" the aluminum can should they choose to.

What about energy drinks?

The other beverage category where aluminum cans have made themselves at home is energy drinks, a real powerhouse these days in the beverage market. Food and drink consultants Zenith International pegged global consumption of energy drinks at nearly 5 billion liters in 2011, up from 1.5 billion in 2007.

One recent entry to the category is Glasgow, Scotland-based food and beverage distributor Glencrest Ltd. with its Nae Danger brand (5), a 500-mL blue raspberry flavored drink in a can made by Crown Holdings. Glencrest managing director Ross Gourlay says he thought the combination of the unusual flavor and the new drink's "hard-to-forget name" will differentiate it from its competitors. He also tells CanTechOnline that extended shelf life is one of the biggest benefits he sees in the aluminum can. "In our case it's 18 months against six months in PET," says Gourlay.

Observers agree that opportunities for cans are abundant in the energy drinks category. But as some regions grow more saturated, maximizing shelf impact will become more important than ever.

Heeding that message is San Francisco-based Hiball Inc. (6), which recently moved from 10-oz glass bottles to 16-oz aluminum cans from Ball Corp. The new can features cold-activation graphics thanks to thermochromic ink from Chromatic Technologies, Inc. When cans reach a temperature of 45 degrees F, the bubbles on the can graphics turn from white to blue, indicating that the beverage inside is at the optimal drinking temperature.

"Our move to 16-oz aluminum cans is the result of consumer demand for a larger size with a more portable packaging option," says Hiball president Todd Berardi. "Hiball's customers ultimately win by getting 60 percent more volume, 30 percent lower cost per ounce, and 100 percent more energy fueled by premium, organic, and fair trade ingredients—all packaged in lighter, more portable, 100 percent-recyclable aluminum cans."

Berardi admits that the switch to an aluminum can was a big move, one that gave him more than a few sleepless nights. "We were the anti-can—the only energy drink in glass and the only energy drink that was clear and all natural and organic," he says. "But in the store, consumers didn't much care. They were so used to seeing energy drinks in cans they were oblivious to our bottle. It didn't help that the store merchandisers always put our product next to bottled teas and bottled waters that were so much less expensive."

Now that the switch to cans is a done deal, Berardi appreciates the billboard graphics opportunity afforded by the 16-oz can. He also likes the way designer Alyssa Warnock carried over the simplicity and cleanliness of the graphics that had distinguished the labels on the glass bottles. "The intention was to keep it sophisticated and aim not at the 16- to 25-year-olds," says Warnock. "This brand is for label readers, for consumers who care that these are organic ingredients and zero calories. It's an older, wiser, more sophisticated demographic that this design appeals to."

Even mead's in a can

Let's bring this whirlwind tour of the beverage canning scene to a conclusion with a look at something completely different: mead. Said to be the oldest alcoholic drink on earth and made with honey to give it a sweet start and a dry finish, this particular mead comes from Blue Dog Mead (7) of Eugene, OR.

"We can double our geographic coverage by replacing 22-oz glass bottles with 12-oz aluminum cans," says Simon Blatz, owner of Blue Dog Mead. "We find this package more durable, more functional, and more sustainable, but also less costly."

Available out west for $6.99 per four-pack, these cans are unitized in a carrier from PakTech that is 96% post-consumer recycled content. "And it's designed in a way that prevents wildlife from getting entangled," adds Blatz.

Blatz adds that the cans are supplied by Crown and filling is done by Craft Canning.
Companies in this article