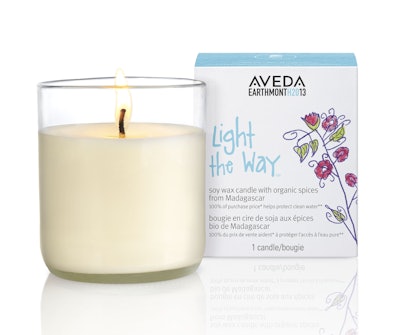 Botanical beauty brand Aveda has announced that its annual Earth Month at Aveda fundraising efforts will be directed this year toward raising $5 million for clean water. Since implementing the annual campaign in 1999, the company has raised more than $26 million for environmental causes, $20 million of which has been directed to support clean water projects on six continents.
A staple of each year's campaign is a limited-edition Light the Way™ candle. This year's edition is a soy wax candle with organic spices from Madagascar, with 100% percent of the purchase price (based on an SRP of $12) donated to the Global Greengrants Fund, a nonprofit organization that channels grants to grassroots groups dealing with environmental challenges.
As is the custom with all of Aveda's packaging, sustainability is a cornerstone of the materials for the candle's primary and secondary packaging. The candle itself is held in 100% reclaimed glass from beverage bottles, while the carton is made from 70% post-consumer recycled paperboard, with a portion made from Aveda's "makeready" materials, or scrap paperboard that would normally be recycled.
Aveda reveals that graphics for the carton—colorful flower illustrations against a white background—are taken from artwork made by students of the Association School in Ampasimanjeva, Madagascar, a village that has received two Global Greengrants Fund grants for water projects. "The children, who previously drank from a dirty, crocodile-infested river, created drawings to show how their lives changed after their community built a safe water source close to home," Aveda says.
As Global Greengrants Fund executive director Terry Odendahl explains, through partnerships with local communities, Global Greengrants has protected more than 700 watersheds, lakes, and rivers, and has supported more than 20,000 women working for clean water in their communities. "All of this is made possible by the sale of Light the Way Candles and the salon owners who participate," he says. "We are grateful to the Aveda community for their visionary support!"
The 2013 Light the Way candle is available at Aveda salons, spas, and stores, and at Aveda.com until March 24, while supplies last.
Companies in this article