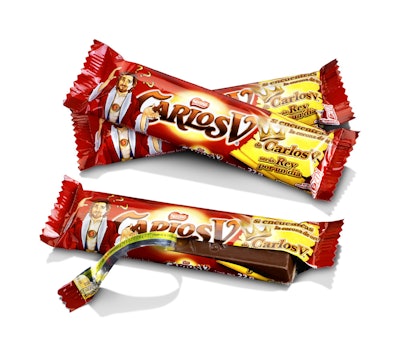 Each bar featured a special 3-mm tape from Payne that provided consumers with a unique code printed in a high-contrast black text on a yellow background design. The Supastrip VDP (Variable Data Print) tapes were applied to the inside of the wrapper, to be viewed after opening, combining a sense of anticipation and excitement with convenient easy opening.
Customers registered the code by text or online to earn "chocolate money," which could then be "spent" on prizes ranging from ringtones and online games to bicycles, mobile phones, TVs, and tablet computers.
Aura Sanchez, Carlos V© brand manager from Nestlé Mexico, says this about the promotion: "We are seeing record-breaking results from the Carlos V© campaign with all targets being broken. Since the code is on the Payne tape, the promotion is placed directly into the consumer's hands at the time of opening, making it easy to find and contributing toward the success of this campaign. As well as being an ideal way to deliver the promotion, the printed tape has helped us further drive brand loyalty."
Payne's Supastrip VDP uses the latest digital print technology to create colourful, eye-catching designs. This promotion marks the first time Payne's Supastrip VDP tape has been used on a flow-wrapped chocolate bar.
Payne tape can be applied without affecting production line speed and can be run across multiple stock-keeping units (SKUs). In this case, five different SKUs under the Carlos V© brand were included in the promotion.
"We are extremely pleased to have been able to provide Nestlé with a solution for this exciting promotion," says Tadeu Margaria, general manager – Latin America. "We look forward to discussing further projects with Nestlé in the future."
Companies in this article