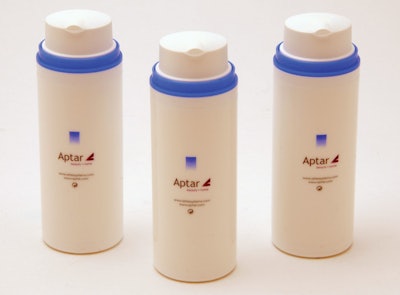 A Gold winner demonstrating innovation and sustainability, the Eden all-plastic airless cosmetic dispenser from Aptar is said to be the first airless dispenser certified for recyclability. The pump mechanism boasts a mere four components, versus a traditional pump, which has from six to seven parts. The entire dispenser consists of just nine pieces, all of which are made from polyolefins.
According to Des McEttrick, market development director, N/A Beauty, for Aptar, "the biggest advantages [of the Eden dispenser] are recyclability—it is made from only one family of plastics; the materials conform to the EcoCert positive list [for natural and organic cosmetic products] so it's well suited for organic products; it has a very soft and smooth actuation, which makes it easier for the consumer to dispense; and it's completely leak-proof."
The pump design eliminates the gasket and metal spring, using polypropylene and polyethylene instead. A short stroke combined with a low actuation force provides a very soft feel, making it well suited to facial skincare applications. The dispenser's modern design is achieved through the use of a straight cap, frosted actuator, colored outer ring, and flush shape. Protecting the bulk of the product from the external environment before the first priming, a patented intermediate seal inside the pump closes the dosage chamber. When the consumer has emptied the package of its product, the entire container can be discarded in the recycling bin.
According to McEttrick, the dispenser, which was introduced in Charleval, France, in 2009, is priced for mass-market applications, so it is less expensive than Aptar's traditional airless packages for the prestige market.
Companies in this article