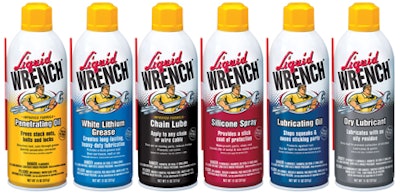 These include the newly reformulated Liquid Wrench Penetrating Oil and the new anti-sling formula for Liquid Wrench Chain Lube.
Radiator Specialty is complementing the new products with updated packaging that includes its core line as well. Graphically, the focal point of the tin-plated steel cans is a customized animated character of a muscular handyman to support the premise that "a wrench for every job" is necessary to get the job done right.
The package design also features a clever nut-shaped polypropylene cap, injection-molded by eStyle Caps and Closures.
"With the new packaging, reformulation, and educational campaign, DIYers will have the confidence of knowing they have selected the right tool in every situation," says Mike Guggenheimer, vice president of marketing for the Liquid Wrench brand. Radiator Specialty decided on this approach after reviewing consumer research conducted by Decision Metrics, which uncovered how DIYers select penetrating and lubricating products, and the importance of selecting the right tool every time.
Beyond that, the packaging ties into a mobile marketing program conducted via texting. A special mobile text code appears on each can. Consumers can enter the code onto their mobile devices to receive a recommendation from Liquid Wrench specifying the right product for their specific need. The information will be updated regularly to provide shoppers with season-specific recommendations.
"No longer will consumers have to hunt to find a sales person to answer their questions or guess which product will solve their problem," Guggenheimer says. DS Containers supplied the steel cans for Liquid Wrench, and Liggett Stashower created the branding strategy.
Companies in this article