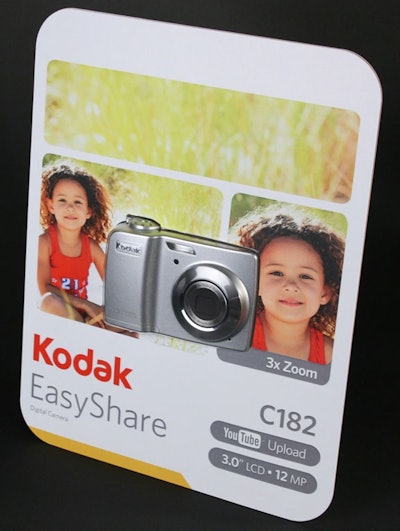 Eastman Kodak has selected MeadWestvaco's Natralock® packaging solution, a paperboard-based alternative to plastic clamshells, for its Kodak C-182 digital camera available at Target and Best Buy.
"Eastman Kodak continues to set new standards in sustainability; ensuring we are maximizing the packaging for our products and the impact it has on the end consumer," says Donna Cirella, Digital Capture & Devices, packaging manager, Eastman Kodak. "The Natralock solution from MWV offers in-store security without excessive packaging materials or compromising consumer friendliness. It is an excellent solution that supports our brand and the environment."
Natralock is made from sustainably sourced paperboard with a clear plastic APET or rPET bubble. According to MWV, Natralock uses 60% less plastic on average than petroleum-based polyvinyl chloride clamshells and uses about 65% less energy in production. Natralock also prevents the "wrap rage" commonly associated with opening clamshell packaging, as it can easily be opened with scissors, leaving a smooth, safe edge.
Speaking about the project, Jeff Kellogg, vice president of MWV's Natralock packaging business, says, "Kodak's brand is based on superior imaging, so in addition to anti-theft characteristics, they required a package that would showcase their sharp, stunning images. Our proprietary combination of world-class paperboard combined with minimal plastic help enable Kodak to showcase what matters most: their products, imaging capabilities and dedication to sustainability."
Natralock is said to be slimmer and 29% lighter in weight than clamshells, which reduces warehousing space needs and transportation and shipping costs. In production, Natralock is said to seal up to 60% faster on average than clamshells, and it can be run through most existing sealing machinery.