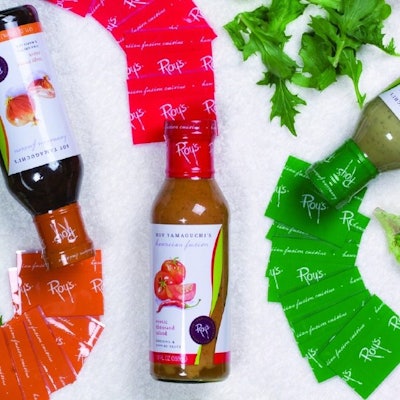 For three new salad dressing and sauce products from celebrity chef Roy Yamaguchi's Da Farmer & The Chef brand, tamper-evident shrink bands top off fresh and flavorful package graphics. The products were launched to allow fans of Yamaguchi's famed Hawaiian Fusion® Cuisine, served at his 34 U.S. restaurants, to enjoy the exotic flavors and spices of Hawaii at home.
Packaging for the line comprises a clear, 12-oz glass bottle with a wraparound label that uses simple yet elegant graphics to convey the freshness of the ingredients inside. The line includes Creamy Honey Herb and Exotic Thousand Island dressings and dipping sauces, and a Tangy Sweet Onion vinaigrette and marinade. Label illustrations include a sprig of green herbs, ripe red tomatoes and peppers, and onions, respectively.
Providing tamper-evidence and a dash of color and branding at the top of the bottle are brightly printed polyvinyl chloride neckbands from AmeriSeal Inc. (www.ameri-seal.com). The shrink labels are each printed in two colors on a gravure press and use perforation for easy removal by the consumer. The Roy's Hawaiian Fusion logo is printed in white on each label.
Products are available from Honolulu-based Da Farmer & The Chef for $8 apiece on the company's Web site.
Companies in this article