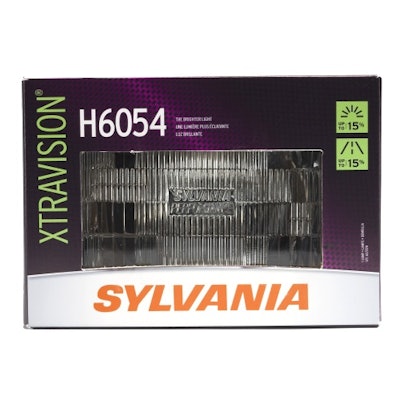 All revved up and ready to go. That's the outlook for a major redesign for OSRAM SYLVANIA when it unveiled a new product packaging design at the Automotive Aftermarket Products Expo in October for all Sylvania products sold at retail, which number 270 different items. The customer-friendly packaging redesign strengthens the Sylvania brand, particularly in the competitive automotive aftermarket sector. The company's automotive lighting offices are in Hillsboro, NH.

The packaging redesign, which includes five tiers of products from standard to SilverStar Ultra for products from headlights to auxiliary bulbs, represents the brand's first major graphics change in nearly a decade. Plans were to ship the new packages in three phases to customers starting in January.

A number of variables factored into a new packaging look, according to Denise Champagne, Osram Sylvania's marketing manager.

"[Our] products are modern, bold and bright and our goal was to redesign the packaging to mirror the premium traits of each one of our aftermarket products," she says. "The clean, crisp designs form an identity for each of our products that will easily alert anyone purchasing a Sylvania light about its outstanding features. These new graphics will help educate consumers on the fact that they have choices when it comes to automotive lighting products."

As a result, Osram Sylvania expects the redesigned packages to grab the attention of consumers.

"The new packaging is eye-catching and makes it much easier for consumers to understand which product is best suited for their needs," says Carol Pregger, the company's principal packaging engineer for automotive lighting. "We are now using colorful, value-proposition icons, on the front and back of our packages, denoting levels of brightness, down-road sight distances, and increased peripheral vision. These symbols help distinguish our products' best performance attributes."

The design firm of Wallace Church (www.wallacechurch.com) collaborated with Osram Sylvania personnel to conduct various consumer research projects to help define the core of the brand identity.

The printing method for both former and new packaging is offset lithography, ranging from three to five colors. Premium products have additional embellishments such as foil hot stamping and embossing. Sylvania also credits its prepress vendor, Boston Color Graphics (www.bostoncolorgraphics.com), for its work.

Sustainable thinking

One of the project objectives was to minimize the environmental impact of the new packaging. As such, the paperboard used for the blister-cardstock is not SBS, but a recycled-content board that the packaging vendor prefers not to identify. Sylvania states that most of the polyvinyl chloride blisters are made from a recycled-content material, an aspect that's unchanged from before.

Osram Sylvania notes that the majority of primary, secondary, and tertiary packaging specifications changed as a result of this project. Secondary and tertiary packaging were revised to significantly increase the cube efficiency, effectively saving fuel by allowing more packaged product to fit in a truck. In fact, the company expects that "up to a 78% cubic volume reduction" and associated fuel savings to be realized.

Overall, the new changes will reduce the amount of plastic in the packaging by having products encased in contoured, tighter blisters, instead of large, loose-fitting plastic windows. The blisters also make for a more theft-resistant package, according to the company.

All products are packaged in blisters thermoformed from PVC sheet from 10- to 20-ga thick. Previously, Osram Sylvania's premium products used an "oversized" 30-ga PVC blister to show the bulbs in a "store-window" type of display, according to Osram Sylvania. That increased the primary package cube and was not an environmentally optimal use of materials, the company admits. The new blisters fit the bulb contours more closely so that there is less wasted space and blister gauges can be reduced. Sylvania states. The company estimates that it will reduce the amount of blister material with the new design by about 40% across its product line.

The packaging structure for many items changed from a face-seal to a trapped-seal package. Packaging World is told this means that two pieces of paperboard trap the thermoform's flange, making it easier for consumers to later separate the materials for recycling.

Osram Sylvania says that the items offer a significant associated reduction in total package cube as defined by the Wal-Mart Sustainability Scorecard, allowing for more efficient transportation, and thus, fuel savings.

JIT packaging

All the packaging components are supplied through J&J Packaging (www.jjpackaging.com). The materials are provided daily in a just-in-time delivery from J&J's operations in Sunman, IN, outside Cincinnati, to the production floor of Osram Sylvania's operations about an hour's drive away in Corbin, KY.

Osram Sylvania refers to this as a "Pack-on-Demand" process that it began in 2004. Although the impact has not been formally calculated, Pregger expects this will have a positive impact on the Wal-Mart scorecard because the previous packaging component and material vendors were much farther away from its packaging operations. The Wal-Mart scorecard factors in details such as the package materials' transport into its matrix.

Sylvania notes that actual product pricing is set by retailers, but its suggested pricing ranges from $9.99 for a pair of the standard-type bulbs to $49.99 for a pair of premium headlight bulbs.

Osram Sylvania says it relied heavily on consumer research as well as input from its retail customers during the redesign. "We confirmed that consumers would prefer that the planogram was merchandised by bulb part number rather than by product family so consumers could find all their product performance options more easily," says Champagne.

Because of the ongoing introduction, sales results were unavailable at press time. However, in prelaunch tests, the company found that 97% of consumers tested were willing to trade up to premium products when viewing the new packaging and merchandising concepts. That's a sure sign that sales should accelerate.


Companies in this article