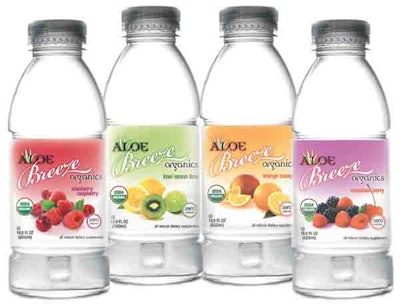 dome-shouldered, high-clarity PowerFlex™ PET bottles supplied by Amcor PET Packaging (www.amcor.com). The beverage company is positioning Aloe Breeze as "the first USDA-certified organic drink line that harnesses the power of super-nutrient aloe vera and infuses it with exotic, naturally flavored waters."
The bottles are topped with 38-mm plastic closures supplied by Alcoa Closure Systems International (www.alcoacsi.com). And the clear polypropylene, UV-coated labels, designed by Packaging Arts (www.packagingarts.com), are UV flexo-printed in eight colors.
Phoenix Beverage president and CEO Brad Holmes says, "We went on a search to find the right bottle for this product launch. We knew we wanted PET so that we could get the near appearance of glass and the functionality of plastic. We also needed a container that could perform well in a hot-fill environment."
More conventional hot-fill bottles with vacuum panels and ribs didn't fulfill Phoenix's requirements. Holmes notes, "We have a transparent label with a 'fruit-forward' design that accentuates the organic purity of the product. We wanted something that would allow us to showcase our label."
Phoenix selected an Amcor PowerFlex stock bottle that allowed the company to launch the new product quickly without incurring any additional tooling costs. The hot-fillable (185ºF) bottle features a patented panel-less, rib-less design. The straight-wall bottle absorbs vacuum via a specially designed base. A unique diaphragm within the base draws upward as the liquid cools. It has the geometric characteristics to enable the inverted cone-shaped diaphragm to deflect upward as the vacuum is created. And, because there are no sidewall panels, the bottles are easier to accurately label.
Aloe Breeze was introduced this summer through selected national health food stores. Made with purified water, organic aloe vera juice, and the botanical stevia leaf, the beverage has zero calories, carbs, artificial sweeteners, or preservatives, and it is formulated as a "revitalizing natural healer." It comes in four flavors—Orange Mango, Kiwi Lemon Lime, Mountain Berry, and Cranberry Raspberry. The average retail price of a 16.9-oz bottle is $1.79. Holmes says, "It is the ideal alternative for weight management, restricted diets, and anyone looking for a great-tasting, higher-nutritive water option."
About the packaging, Holmes concludes, "We received high marks on the overall package when we did our consumer testing, and we've been very pleased with the consumer feedback. We wanted to showcase purity and clarity, and we think this bottle helps us achieve that."
Companies in this article