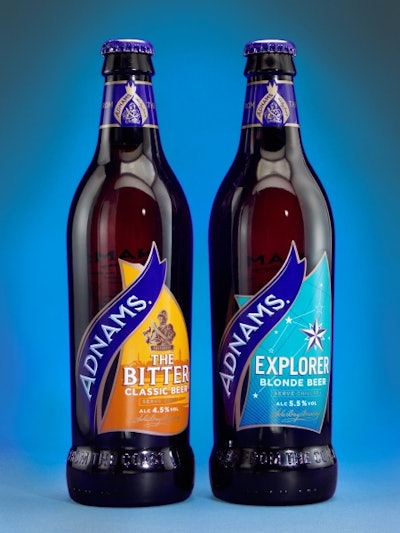 Adnams, Plc. and
O-I
(www.o-i.com), the company's glass-packaging supplier, recently produced a new benchmark in lightweight glass bottles in the United Kingdom. At 10.55 ounces, the new Adnams' half-liter glass bottle is more than 1.4 ounces lighter than the previous lowest-weight ale bottle and is more than 3.5 ounces lighter than most of the bottles in its category. The new bottle will reduce Adnams' glass consumption by more than 550 tons a year. The weight reduction is a result of a bottle redesign and the adoption of narrow-neck press and blow technology.
Putting the Adnams' achievement into perspective
"The glass industry has been actively light weighting glass containers for 20 years because of energy and material savings as well as the fact consumers want lighter and lower cost packaging," says Kevin Stevens, VP Sales & Marketing, O-I North America Glass. "During that period, O-I reduced its average glass container in terms of material content by 30-35 percent."
Stevens pointed out that for many of the largest U.S. soft-drink, beer, and retail food companies continued weight reductions are likely to be less spectacular than the Adnams, Plc. leap forward because the "low hanging fruit" in weight reduction has already been harvested by the larger companies.
Not that progress won't be made in the U.S. The larger companies should still see incremental improvements through innovations in package design, manufacturing technology, and coatings, while the smaller companies catch up by potentially taking large steps forward. For example, companies traditionally buying stock glass containers for their products may find these packages have not undergone finite element analysis and a concerted effort at weight reduction in years and therefore offer light weighting opportunities. Some of the fastest growing smaller companies may determine, because of material cost, energy consumption, or Wal-Mart scorecard rankings, that it is time to become serious about weight reduction and begin working with their glass packaging suppliers.
O-I's Stevens says that the most effective means of achieving glass container weight reduction is first of all through design and secondly through changes in machine processing. Both were utilized in O-I's work with Adnams. He said that benchmarking is the foundation of every successful sustainable program—taking the measure of a package from raw-material extraction, through the supply chain, to end-of-life scenarios.
Do not overlook the importance of reuse and recycling in any deliberation of sustainability
Let's say a consumer package goods company has the choice of two packages for a new product. One of these packages weighs 10 ounces and the other 5. Which is the more sustainable of the two? If you picked the lighter one, the answer is—not necessarily.
The lighter package may not be recyclable. The heavier one might be reused multiple times, thereby diminishing source extraction, a notorious energy hog. The heavier one may be suitable for backyard composting. Both may contain materials harmful to the environment or people and therefore neither would be sustainable.
So weight reduction is simply one of a number of avenues to pursue. Assessments of the sustainability of a package must also consider such factors as:
• Reuse—the inclusion of recycled materials or the reusability of the package
• Recyclability of the package
• Supply-chain logistics
As you read the following examples, remember that materials other than glass offer similar, if not identical, advantages when reuse, recycling, and supply-chain logistics are factored into the sustainability equation.
Proximity of the supplier to the customer
O-I located a state-of-the-art glass plant in Windsor, Colorado about 16 miles from customer Anheuser-Busch. Approximately one billion glass bottles annually will be transported the 16 miles from supplier to customer. If the plant had not been built, the average transportation distance would have been 774 miles. Annual sustainability benefits from O-I's proximity to Anheuser-Busch include:
• 1.95 million gallons of diesel fuel saved
• 24 metric tons of CO2 and 248 metric tons of Nitrogen Oxide gases (NOx) not spewed into the atmosphere
Increase the amount of recovered material
Over its 20 year history, California's Bottle and Can Recycling Law—The Bottle Bill—has helped to generate one of the highest overall collection rates of glass bottles in the U.S. Recent adjustments to the bill resulted in a 10 percent increase in the amount of glass recovered in California annually.
Sustainability benefits include:
• 17 percent reduction in CO2 and a 6 percent reduction in NOx
• 9.5 reduction in raw materials extracted
• 2.5 percent reduction in electricity and natural gas
O-I estimated that a comparable annual 10 percent increase for glass recovered in the U.S., from the present 22 percent to 32 percent, would equal the raw materials required to produce 11 billion containers. If U.S. rates reached European Union levels, such as Germany at 60 percent or 80 percent for the O-I plant in Reims, France, 28 billion glass containers could be made from recovered material with all of the consequent social, environmental, and financial advantages of material reuse.
An expansion of the returnable/refillable program in Ontario, Canada
According to the Container Recycling Institute, the province of Ontario, Canada, deposit and return program for beer bottles has a 97 percent recovery rate and bottles are reused 15-18 times on average before being recycled. O-I estimates 2 billion reuses a year. This means that the equivalent material for 2 billion glass bottles does not have to be extracted, converted, and transported. The reuse and recyclability of beer bottles in Ontario makes these glass containers one of the most sustainable packages on the planet.
In January 2007, Ontario expanded its deposit and return program to include the recovery and recycling of wine and spirit bottles. An estimated 80 million glass bottles will be diverted from landfills and recovered for use in new packaging. The expanded program received the support of Ontario Environmental Defense, The Conservation Council of Ontario, Citizens Network on Waste Management, and Sierra Club of Canada.
Weight reduction is one of the three essential strategies for more sustainable packaging.
The other two, as these examples illustrate, are reuse and recycle. And do not underestimate the impact of supply-chain logistics. The many facets of glass packaging can—and should—help to inspire similar success stories for the other most-used materials, including aluminum, steel, fiber, bio-resins, and petroleum-based rigid and flexible polymers.
Companies in this article