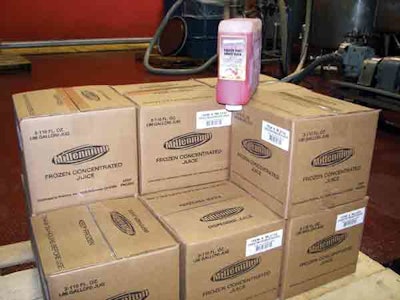 Profitime, North Hollywood, CA, provides dispenser juice concentrates to "Smoothie" chains such as Robeks, Inta Juice, and Fresh City, as well as to food service outlets such as hotels and upscale retirement homes. The company operates a production and warehouse facility in North Hollywood, and a second warehouse in San Jose, CA.
The company, which uses approximately 40,000 labels per month, had been buying rolls of preprinted labels from a flexographic label supplier. In order to get a more favorable price, Profitime had to order large label volumes at once and was carrying a huge label inventory to cover all its 70 different juice concentrate stock-keeping units (SKUs).
If any juice ingredient or other product information changed, the associated label inventory had to be discarded, resulting in lost label costs. In addition, Profitime was not altogether pleased with the print quality of the labels, nor with the long lead times for delivery—sometimes up to three weeks.
On-demand label printing
To address these problems, Profitime decided to investigate available on-demand label printing systems. After reviewing various options, the company chose a thermal- transfer label printer supplied by Labeltronix (www.labeltronix.com).
Ed Sullivan, Profitime's vp of sales and marketing, says, "We shopped around and decided to go with Labeltronix for multiple reasons. We liked the versatility of the thermal printers that they offered with service support, and the fact that they were a printing company with both digital and flexographic capabilities. Not only were they located within 90 minutes of our plant, but they were also a single-source supplier of label stock and printer ribbons."
In October 2006, Profitime installed its first of three Model Z4M thermal printers manufactured by Zebra Technologies (www.zebra.com). Labetronix provided Profitime with seven master labels, pre-printed with basic, non-variable company information and graphics. These 4" x 21⁄2" master labels, supplied on rolls, are made of water-repellent plastic laminated film with permanent adhesive and are flexo-printed in 4 colors. The thermal printer software enables variable data inputs to accommodate fast, on-demand printing of labels for each product Profitime manufactures.
Operations overview
Profitime uses a 4-head, direct-displacement piston filler, custom-engineered by Ron Ungar of Innovative Machine Engineering (www.ime-co.net), to fill its 1-gallon and 110-ounce high-density polyethylene jugs. The jugs are supplied by Plastic Industries (www.plasticindustries.com). Filling speeds for the gallon jugs of viscous juice concentrate are approximately 4 jugs every 20 seconds.
Closures are applied and then the containers are sent through a system from Pillar Technologies (www.pillartech.com) that induction seals a foil/film seal to the opening. Date/ID codes are applied to the jugs, using ink-jet coding equipment from multiple suppliers.
The jugs then are labeled (mostly manually) and are manually loaded into corrugated cases for shipment. The products ultimately are used in conjunction with post-mix juice dispensers manufactured by IMI Cornelius, Inc. (www.cornelius.com)
The flexo pre-printed shipping case flats are provided by Tharco (www.tharco.com). Profitime uses a semi-automatic tape sealer system from Sta Packaging Tapes (www.sta-usa.com) to seal the shipping cases. Shipping labels, also produced using a Zebra printer, are manually applied to the cases.
Outstanding results
The new, highly flexible, on-demand label printing process has delivered several benefits to Profitime. Ed Sullivan notes, "With Labeltronix' Lean Labeling solution, we virtually eliminated wasted labels and cut our inventory. We also improved our time to market from three weeks to one day, enhanced our brand image, and increased sales."
Sullivan confirms that overall label costs have been reduced by roughly 40%; inventory requirements have been reduced by approximately 30%; and label waste due to out-of-date label information has been slashed by about 95%.
He adds, "We've developed a very good relationship with the folks at Labeltronix. They offer good solutions, high-quality equipment, and excellent support. It took only about four hours of training to get our staff adapted to the new label system. Basically, it's just a matter of loading the software and learning which keys to push to change label information."
The quality appearance of the new master labels printed by Labeltronix also contributes to building a premium brand image for the juice concentrate products. As Sullivan notes, "For a small, niche company like ours, we have to convey quality through our packaging as well as through our product. This labeling process not only gives us much-needed flexibility, but achieves it at a reasonable cost."
Companies in this article