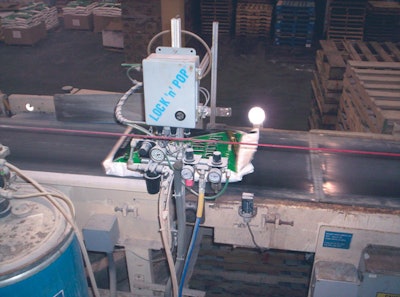 For Keystone Processing and Packaging Co., a division of Three Rivers Marine and Rail Terminals, an innovative way to increase its profit margins while reducing labor costs came in shifting to a special water-based palletizing adhesive.
The results? Keystone reduced labor costs by 5% and stretch-wrap costs by 42% The company passes those savings onto its customers.
Keystone is a high-volume contract packager of bulk materials, and its lines generate several truckloads of bags per day. One line runs salt and fertilizer in bags weighing 20 lbs to 80 lbs each.
The 20-lb bags are long and thin, about 10" x 22", and are dimensionally unstable for automatic packaging, explains Gene Champion, Keystone plant manager. Falling bags caused six to 10 palletizer shutdowns per shift. Champion says it was more cost-effective to add four workers to the end of the palletizing line to stack the bags than to incur downtime. Full pallets were carefully moved to the stretch wrapper, where as many as six layers of stretch wrap were applied at the top and bottom of each pallet load.
Champion says the solution to these challenges was a shift to an "easy release" stabilizing adhesive from Lock n' Pop, Lynwood, WA. It is an industrial adhesive similar to the adhesive on Post-it ™ notes and strong enough to prevent bags of bulk material at Keystone from shifting during palletization, in-house handling, or shipment.
In addition, Lock n' Pop's low-fracture tensile strength enables individual packages to "pop" apart when unloaded from the pallet, Champion says. The adhesive is applied to bags as they enter the palletizer. The applicator receives a signal from the palletizer, which eliminates spraying bags on the top layer.
Champion notes other benefits of switching to Lock n' Pop. First, the application equipment is compact, runs on plant air, and is essentially maintenance-free. Second, maintenance consists mainly of cleaning the sensors periodically and changing adhesive drums monthly.
Champion estimates that one cubic foot of Lock n' Pop replaces 176 cubic feet of stretch wrap.
"We've been able to reduce stretch from a total of six layers at the top and bottom to four at the top and three at the bottom. We have also reduced the film to 60-gauge," he says.
Companies in this article