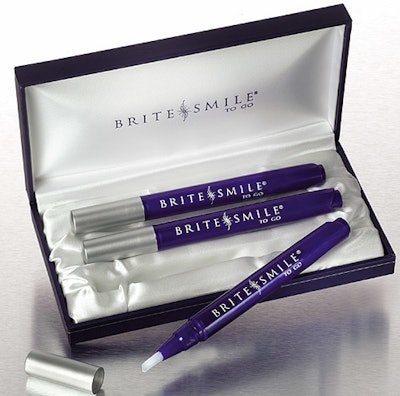 The company debuted its BriteSmile To Go teeth whitener pens in late summer 2004 in a convenient, reclosable custom-made "case." The blue case has a silky texture that emulates the look and feel of cases commonly used for luxury writing instruments to perfectly match the pen-brush applicator. The distinctive look and feel is courtesy of FiberMark's Corvon® Iridescent material, a 7-mil latex-saturated, paper-based material that's applied to the plastic case itself. The Corvon is printed with the brand identification in one color, silver.
The hinged, satin-lined case is supplied in two sizes by Winson Development of China. The product is available in one- or three-pen versions. At 61?4''x 1''x31?4'', the latter case is slightly wider than the single-pen version. They retail for $29.95 and $79.95, respectively. Graphics are carried by an outer 12-pt SBS paperboard sleeve printed in several colors.
"The packaging solution definitely conveys the image and feel of applying cosmetics, rather than dental products," says Steve Miller, BriteSmile executive vice president. "The design is portable, elegant, and high end." Previously, BriteSmile was available only at the company's Whitening Spas or at dental offices, and not in this packaging.
BriteSmile to Go was introduced at Nordstrom department stores on the West Coast in 2004 and by late January 2005 was selling exclusively at 52 Nordstroms across the United States, according to Miller.
Companies in this article