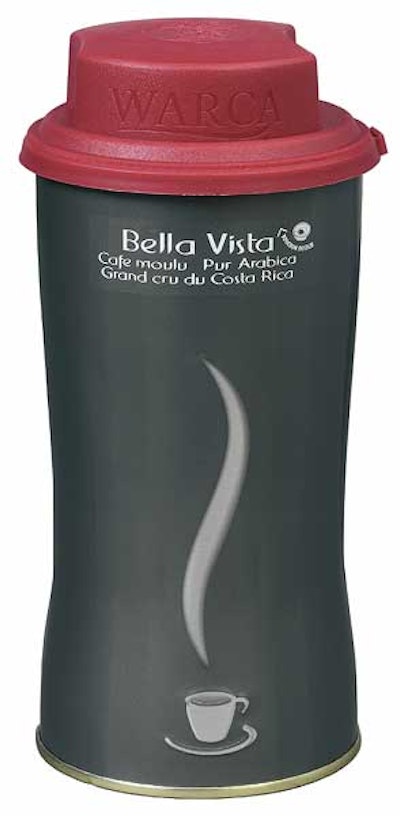 But a closer look at the Hamburg, Germany-based coffee, tea, and hot chocolate producer's container reveals functional qualities that deliver competitive differentiation on shelves in eastern France where it's marketed.
A hermetic polypropylene closure with a "double open easy" system allows the user to partially open the can (image 1, below) with a tear strip. The top closure portion also serves as a measuring cap. The consumer pours the coffee out of the steel container into the PP closure (2), then deposits the coffee from the measuring cap into a coffee maker (3). When the coffee is emptied from the steel can, the closure can be completely removed (4) and the empty can may be cleaned and reused by the consumer.
The Warca can is the result of one-and-a-half years of development between J.J. Darboven, designer Design Développement, and canmaker Corepe. The French canmaker makes the can body and cap. The can was produced by a process of mechanical expansion. Three cap colors are used for three different varieties. The cans are stackable at retail. Cans are decorated with two labels that provide coffee variety details. The container includes a leaflet printed with product information and instructions on how to use the can. Two labels on the can are removable, giving consumers the option to peel them off and mark or label the container for reuse.
"The coffee segment [in France] is dominated by rather classic packaging," says Jean-Francois Soul, director of J.J. Darboven France. "Practically only round packaging exists. We wanted to distinguish ourselves on the market by creating something innovative in metal, something different from the traditional, cylindrical can."
The "upscale" 250-gram coffee, which sells for €4ᅢ (U.S.$5.50), "is innovative because it's the first shaped steel can to be used in the coffee market segment," adds Bernard Delvallet, commercial director at Corepe.
Companies in this article