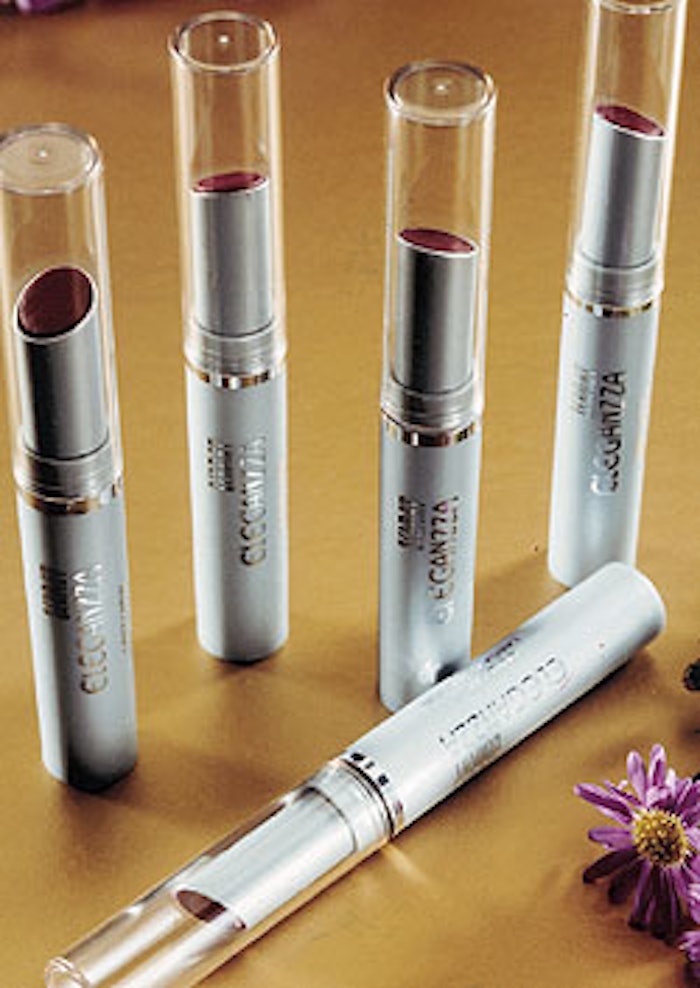 As Zermat Intl. of Cuauhtemoc, Mexico, prepared to launch its Eleganzza brand of extended-wear lipstick, management was firm on one thing: The container cap had to be clear so that consumers could see each color in the family. Clarity alone, however, wasn't going to be enough. The cap also had to provide an oxygen barrier. Exposure to oxygen can degrade the special chemicals that make the lipstick an extended-wear product.
Marketers at Zermat relayed these requirements to Spatz Laboratories (Oxnard, CA), the injection molder/contract packager scheduled to produce and package Eleganzza for Zermat. Spatz responded with a cap that's injection molded of Eastar® copolyester AN004 from Eastman Chemical (Kingsport, TN).
"We had been using polypropylene for our opaque and semitransparent caps," says Jim Flanagan, director of quality assurance at Spatz. The volatility of the extended-wear formulations required barrier properties at least as good as polypropylene, says Flanagan, but PP wouldn't do because it wouldn't offer clarity. "Even if it's one of the clarified polypropylene resins, there's still a slightly cloudy quality," says Flanagan. "For clarity and barrier combined, this Eastman material we're using is the best."
Distributor input
Playing a key role in getting the resin into the hands of Spatz Laboratories was Eastman distributor Albis North America. "They identified the opportunity and then followed through to commercialization," says Scott Rook, Eastman cosmetics market manager.
"With AN004, which has grown rapidly in cosmetics, the approach we take is to focus our own efforts on pulling it through the marketplace by calling on the fragrance manufacturers and marketers," Rook says. "Then we rely on distributors like Albis to push it through the marketplace by calling on the molders that supply those fragrance companies. We rely even more heavily on distributors on the West Coast, where we don't know the market that well."
Working with the sales and technical staff of Albis, Spatz conducted weight-loss, vacuum, and cap-dimension testing. Weight-loss testing monitors changes in packaged lipstick weight over an eight-week period.
"The volatile chemical ingredient that makes this lipstick an extended-wear product will dry out if exposed to too much air," Flanagan says. "As it dries, it loses mass and becomes lighter, which is what this test is all about." Caps made of AN004, says Flanagan, suffered no appreciable weight loss.
Done under water
The vacuum test checks to see if there is an hermetic seal between the clear cap and the opaque lipstick barrel. Spatz achieves this hermetic seal in its container design by giving the cap two molded rings around the inside diameter at the point where the cap meets the barrel. When the cap is snapped onto the barrel, a complementary ring molded on the outside of the barrel mates with the rings molded into the cap to form an hermetic seal.
In the vacuum test, a closed container is submerged under water in a vacuum chamber. A vacuum measuring 4 Hg is drawn, and if a stream of bubbles emerges from the container, it indicates a leak.
"We also studied the dimensions of the cap over time and found them very stable," says Flanagan.
While Spatz operates 38 injection molding presses, from 28-ton to 200-ton, the firm typically molds the Eleganzza cap on an 85-ton, eight-cavity machine from Van Dorn Demag (Strongsville, OH). It's one of the newest machines in the Spatz Laboratories arsenal.
"The material is a little less forgiving than PP," Flanagan says, "so mold temperature and processing temperature have to be carefully controlled." This is more easily done on a newer machine.
Spatz also molds the opaque bottom half of the Eleganzza container. For this piece, says Flanagan, PP is perfectly adequate.
Naturally, the benefits of AN004 don't come without an upcharge. "Polypropylene for a cap like this might be 50 cents a pound," Flanagan says. "This material is roughly three times that. But the combined benefits of clarity and barrier make it worth it."
Available since September 2000, the Eleganzza line is sold throughout Mexico and Central/South America. Consumers pay a U.S. equivalent of about $6.90 for a tube of that lipstick.
Companies in this article