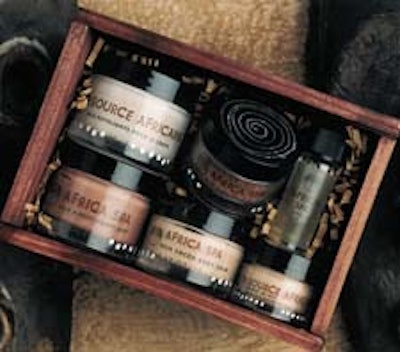 When West Sussex, U.K.-based The Body Shop Intl. developed a new six-component skin-care kit, the company decided to take advantage of a new tool in its arsenal: the Internet. Having learned about WebPac www.webpackaging.com from U.K. packaging trade publications, representatives at TBS decided to give the site, which features a searchable, multivendor catalog of stock rigid containers and closures, a try.
"It was the first opportunity for us to source via the Web, as we had not had access to the Internet until recently," said Mike Sunderland, TBS packaging manager at the time.
Webpac provides contact information and an overview of product offerings for more than 1ꯠ global container and closure suppliers, and distributors.
One of Sunderland's colleagues spent some time on the site, researching which suppliers offered containers suitable for TBS's new Africa Spa kit. The site allows users to search broad categories, such as "plastics" or "containers," or narrow the search down to specific topics like "jars, pots and tubs for cosmetics packaging." Keyword and advanced searches also are available. Searches of containers return a list of containers with accompanying photos. Clicking on one calls up more detailed data, though not until users register (for free) with the site. North American and European suppliers are represented fairly evenly.
After developing a short list of suppliers, Sunderland's colleague called each supplier to ask for samples.
Sunderland says the information available on the site was instrumental in cutting research time. "It saved time in man hours that would have been spent going through supplier brochures, telephoning and faxing requests for samples," he explains.
Global reach
The family of 15- to 40-mL, heavy-walled PET jars with compatible closures that TBS eventually selected represented a number of different suppliers from locations around the globe. Three jars and their corresponding lids came from two New York-based companies, Nadel Industries and Moldrite Plastics. The 15-mL PET bottle was sourced through a company in France, and its cap from Australia.
Although the suppliers were located through the Internet, it's important to note that all ordering was accomplished offline via traditional means. Sunderland says his company paid for the container components with purchase orders. Currently, Webpac is a catalog without purchasing capabilities, though that will change, according to the site's management, when more users are ready to take advantage of e-procurement.
Companies in this article