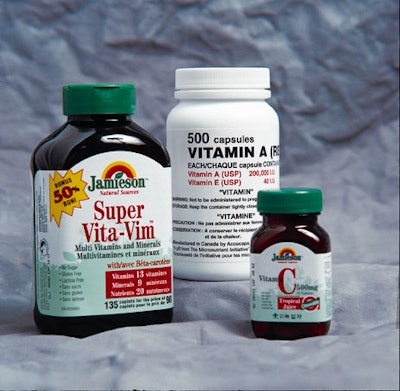 Packaging materials are being re-engineered as well at Jamieson. Previously, the firm exclusively used high-density polyethylene or polystyrene bottles. Now polyethylene terephthalate has replaced PS.
"The larger bottles in particular were brittle in polystyrene," says Cook. With PET, breakage is less of an issue.
Manager of packaging research and control Tom Barr says the PET bottles also provide better barrier against oxygen and moisture, both of which can diminish the potency of Jamieson's products. However, Barr declines to quantify the barrier improvement.
Barr says the PET containers are less expensive than the PS containers they replace. Part of the savings, he readily admits, is a function of geography: The PS bottles were sourced in the U.S., where the Canadian dollar is weak. The injection/stretch blow-molded PET bottles, on the other hand, are from the Toronto plant of Silgan (Chesterfield, MO), so the unfavorable currency exchange rate doesn't enter the picture.
Closures and labels have also undergone a change at Jamieson. Closures are still injection-molded polypropylene, they still incorporate an induction-seal foil membrane, and they retain a flip-top opening feature. But on the previous cap, only half of the top panel flipped open. On the new cap, the entire top opens, so dispensing is easier. MAC Closures (Waterloo, Quebec, Canada) custom-designed the closures for Jamieson.
Finally, paper labels with a UV-cured coating have been replaced by new paper labels from Labelad (Markham, Ontario, Canada) that are rotary letterpress-printed in up to seven colors and overlaminated with a clear PP. "The lamination makes the label look much brighter," says Barr. "It protects the paper a little better, too, but the primary goal was that bright appearance." Barr adds that the slight upcharge attached to the new label "is well worth it."
In a hurry? Request more info via Web-based reader service by clicking on company name.
Or you can jump right to their Web site if it's listed.
Companies in this article