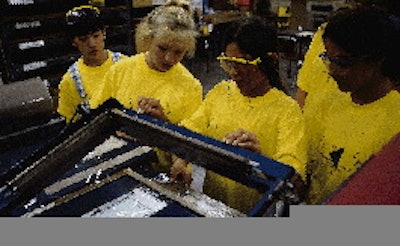 While our salary and job satisfaction survey shows gender inequality in terms of pay and positions of authority, a new program may eventually help even things out.
The Summer Technology & Engineering Preview at the University of Wisconsin-Stout (STEPS) is a week-long packaging lab session for girls. The idea behind STEPS is to encourage girls to choose technical fields by letting them discover what it's like to be packaging engineers.
This summer, the university held four sessions, with a total of 160 girls participating in technically oriented activities including packaging, plastics processing and robotics.
Stout's packaging campaign coordinator Shirley Hoener tells Packaging World, "This was the first year STEPS was held, and it was extremely well received by everyone involved. We had about 550 applications for the program." And that's without much advance publicity. She says initial plans call for STEPS to run for at least three summers.
Girls entering the 7th grade are enrolled by their parents and nominated for STEPS by their school, based on their interest, aptitude or potential in science and math. They're accepted on a first-come/first-served basis. There was no fee for STEPS this year, though that may change.
Participants in STEPS are housed in a residence hall, with a ratio of one counselor to every 10 girls. Meals are provided.
STEPS sponsors include the University of Wisconsin-Stout, the Stout University Foundation, the Society of Manufacturing Engineers, Honeywell and Ford.
According to UW-Stout, the idea for STEPS developed when the university couldn't find any female candidates for a position teaching manufacturing engineering. "In the 13 manufacturing engineering programs across the nation, there are only three women faculty members," says Pete Heimdahl, associate dean of the School of Engineering, Technology and Management at Stout.
Seeing an opportunity to make a difference, the school instituted STEPS to instill confidence in girls, who, says Stout, tend to shy away from fields involving math and science because they may not feel they have the necessary ability. Dr. Kay Cooksey, associate professor of engineering, says, "It is exciting to see these girls make the connection between the materials we are testing in the lab and the packaging they use every day."
The hands-on sessions allowed participants to use Stout's new computer-driven Data Tech Sample Table to produce a corrugated container. The programmed cutting table is equipped with blades to cut board. There was also a chance to design and produce a shrink-wrapped package for a pencil/ notepad product. Additionally, they made thermoformed sailboats modeled after the all-women America's Cup team.
For more information, contact the Stout University Foundation, Inc., Box 790, Menomonie, WI 54751-0790. Phone: 715/232-1151; fax: 715/232-5015.
Companies in this article