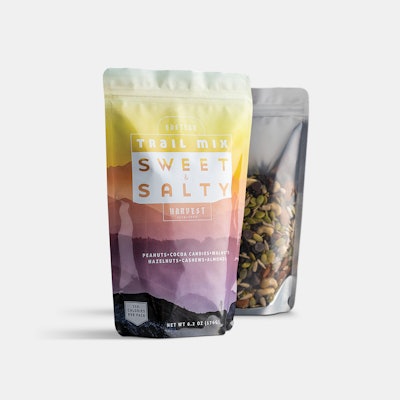 They easily accommodate zippers, spouts, and other closure systems. A sealant film blocks oxygen and moisture. The constructionfeatures excellent puncture resistance, hot tack, and low seal initiation temperature for higher filler throughput and good machinability.
White and clear versions feature a corona-treated polyester film for flexographic printing. The film combines durability and resistance to both heat and moisture. A metallized PET version is corona-treated for surface-printing. This material offers toughness, heat resistance, and provides a superior barrier to moisture, oxygen and light.
Taken together, these features make the Stand Up Pouch ideal for opportunities in segments such as food, personal care, and pet products. According to research published by Avery Dennison in 2018, convenience, ease, and freshness assurance have all become important packaging trends driven by on-the-go consumer lifestyles.
"Compared to many other formats, Stand Up Pouches use less material, weigh less, and lend themselves well to grab-and-go positioning," says Cindy Collins, Flexible Packaging Product Manager. "These are attractive features for many consumers. For brand owners, the '360-degree' billboard for artwork and high performance look and feel translate to greater shelf appeal, helping to increase sales."
Companies in this article