This content was written and submitted by the supplier. It has only been modified to comply with this publication's space and style.
Many verticals within the flexible packaging industry have pledged that 100% of their packaging will soon be recyclable, reusable or compostable, according to the 2022 Ellen MacArthur Global Commitment Report. For brand owners especially, meeting this commitment is critical to their company's success. However, because regulations and certifications that relate to packaging's end of life continue to evolve, it can be challenging to ensure the packaging always meets them and ultimately accomplishes the pledge.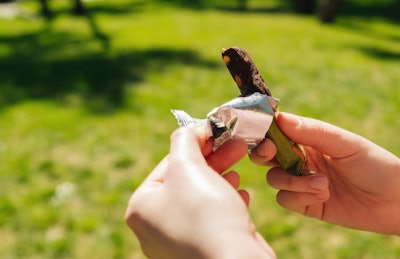 In particular, within North America, How2Recycle®, an entity that standardizes disposal instructions on packaging labels for the public, annually publishes recycling guidelines for packaging using flexible polyethylene (PE), which is the only U.S.-recyclable film to date. These guidelines aim at providing clear and consistent message on packaging material recycling status.
They detail what kinds of packaging structures can be recycled in various recycling streams and indicate which part of the structures require additional testing and pre-qualification letters. Brand owners then use these pre-qualification letters when their final packages are submitted to How2Recycle in order to obtain Store Drop-off certification if applicable. Having this certification means their packaging can have a label on it informing consumers they can bring the packaging to participating stores with PE collection bins. For brand owners, this helps build brand loyalty, making it easy for consumers to know exactly what to do with the packaging and how they can reduce their environmental impact.
The Problem
When conducting the latest guideline reviews on flexible PE recycling streams, How2Recycle determined that the extent to which cold seal adhesive coatings influence the recycling streams was unclear. To help the industry better understand the impact of cold seal adhesive coatings, How2Recycle requested that experts test materials via the Association of Plastic Recyclers (APR)'s Critical Guidance Testing for PE Film and Plastic Packaging. In addition, How2Recycle stated that all brand owners using cold seal in their PE packaging had one year to validate that their packaging met recyclability standards. If unable to do so, all existing PE cold seal packaging that once had received Store Drop-off recycling status would be nullified, and the Store Drop-off labels would need to be removed from that packaging. Additionally, brand owners would be unable to obtain Store Drop-off certification for any new PE cold seal packaging until testing was completed.
Because many brand owners use PE cold seal packaging, there became urgent need in the market to determine how cold seals impacted the recycling process.
Determining the Solution
Upon learning this news, flexible film converter American Packaging Corp. reached out to its adhesive supplier, Bostik, Inc. Together, they partnered with Charter Next Generation, a manufacturer of PE films. Given that cold seal is an inherent part of the film that gets recycled, they knew the entire structure needed to be tested—not only the cold seal. Additionally, they understood the importance in working together to meet the due date, prevent nullification and eliminate future brand owner issues in obtaining the certification.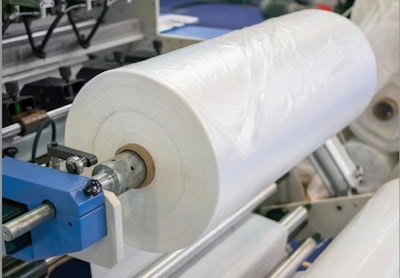 First, American Packaging Corp., Bostik, and Charter Next Generation needed to decide which packaging structure to submit for testing. Click through below to learn the criteria that was considered:
1) Film grade
2 ) Cold seal grade
3) Cold seal coat deposition
Film Grade
When choosing a film, Charter Next Generation considered selecting either a white or clear PE film. The company decided on a white PE film, as it would be a more difficult to pass the APR's test due to its additional additives. If the structure could pass on white PE film, then the company estimated that clear PE film would likely be a success, too. Charter Next Generation's GreenArrow GAP-222.21 HBWTST film was selected for the study.
Implementing the Solution
American Packaging Corp. created two rolls for testing; the first roll was designated as Innovation Film, which was the cold seal-coated PE film; the second roll was designated as Control Film, which was uncoated PE film. The samples were sent to Plastics Forming Enterprises (PFE), an APR-approved test lab to conduct Critical Guidance Protocol for PE Films testing based on the APR test protocol.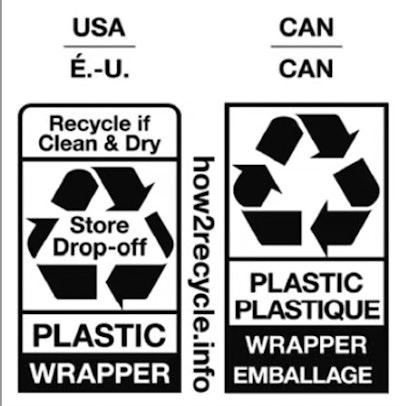 This means Charter Next Generation PE film utilizing Bostik cold seal could be recycled in Store Drop-off streams. As a result, How2Recycle granted a pre-qualification letter that brand owners could use when submitting their packaging; Bostik's cold seal could continue to be used in cold-seal coated PE structures, and it supported efforts to improve recycling stream effectiveness.
Value to the Brand Owner
Collaboratively, American Packaging Corp., Bostik, and Charter Next Generation were able to determine with test data that Bostik's cold seal coated on Charter Next Generation's PE film is pre-qualified for Store Drop-off recycling. This is beneficial to brand owners, as it allows them to have confidence when developing a recyclable PE cold seal structure that their packaging will: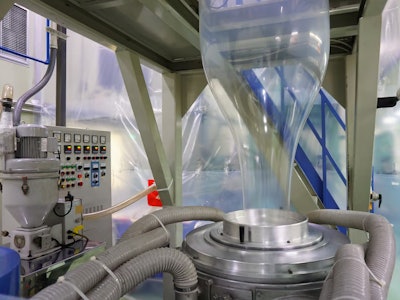 1. Meet APR standards for recyclability
2. Not negatively impact the PE recycling stream
3. Be easy for consumers to recycle, and therefore increase their likelihood of purchasing it
Furthermore, the structure tested was intentionally designed to be a difficult structure to pass the test in order to cover all other structures, whether that be the PE film grade, Bostik cold seal grade or cold seal deposition.
Without collaboration, Bostik would have been unable to submit the cold seal to PFE; Charter Next Generation would not know if their film was compatible for recyclable cold seal applications, and American Packaging Corp. would lose their pre-qualification letters for cold seal PE packaging applications. Ultimately, brand owners would be at risk for losing Store Drop-off eligibility for their packaging.
This cross-vertical collaboration enabled all companies to become experts in the design criteria for creating a recyclable PE structure for cold seal applications and helped brand owners more easily expand their recyclable product lines and develop more sustainable packages for the market.