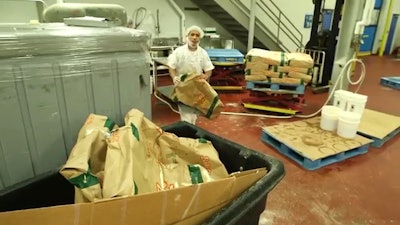 The Paper Shipping Sack Manufacturers' Association (PSSMA), in collaboration with the American Forest & Paper Association (AF&PA), has released a new video explaining how recycling paper shipping sacks with corrugated contributes to a company's sustainability performance. The video tells the story of Henkel Corporation's successful recycling program and its contribution to the company's zero-landfill goal.
Since the paper industry introduced a new recycling logo and campaign to promote the recovery of clean, unlined paper shipping sacks for recycling, PPSMA says that more than 2 million sacks bearing the emblem have entered the supply chain. It signifies that eligible sacks—those that have been used to package food and food-grade products and do not contain polyethylene liners for moisture resistance—are now accepted by most mills in the same collection stream as corrugated (OCC) for recycling. Says PSSMA, this makes it easy for end users to simply deposit the sacks in the same baler or compacter with their OCC, which they've been recycling for decades, and often earn revenue from the sale of these high-value recyclables. Plus, diverting the material from landfills saves disposal costs and is good for the environment.
The recycling awareness campaign is sponsored by PSSMA and AF&PA.
Watch the video here.
Companies in this article