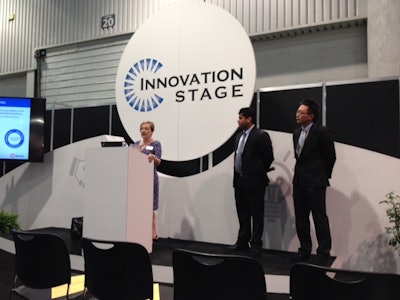 Transdermal patch delivery of drugs is a $25 billion market (2014) and is on its way to being a $40 billion market by 2018, with some 90 drugs in the pipeline that will utilize patches.
In their presentation, "Materials Science: Case Study for Rational Design of Transdermal Patch Packaging," Rishabh Jain and Yuan Liu, Research Scientists with Bemis Healthcare Packaging took the Innovation Stage to present the results of their testing of two alternatives to Barex®, whose sole production plant closed this year according to an INEOS Barex online announcement. The testing examined chemical resistance, diffusion barrier performance, and ability to resist delamination.
Bemis' CXB™ Sealant, a blown film, is designed to hold up well when tested with nicotine using spectroscopy and solubility modeling to determine its performance. Bemis has also modeled a PET cast film for use in transdermal patch construction. Heat sealability—a perceived weakness of Barex—was also tested for both films.
Bemis scientists have also conducted case studies for transdermal patch performance for both films using Lidocaine, estradiol, and Fentanyl.
Companies in this article