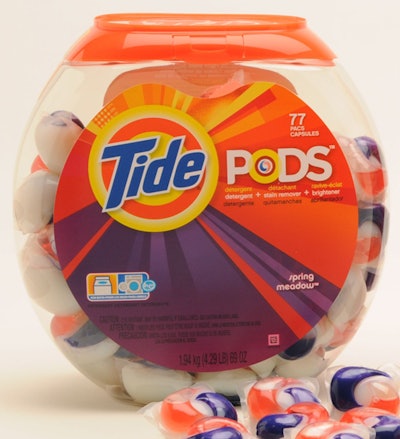 Press reports indicate that nearly 250 people have called poison control centers in the last couple of months following the U.S. launch of Tide Pods, a Procter & Gamble product, and similar products. Young children are apparently mistaking the colorful laundry detergent packets for candy. Intended to take the guesswork and mess out of doing the laundry, these individual dose pouches quickly dissolve in the wash, but can also do so in a child's mouth.
Tide Pods may be especially appealing to children because this product is sold in a clear plastic tub, something that can look very much like a container of candy to a child. This "changemaker" type of package has long been a fixture in the candy industry as it enables consumers (especially kids) to buy candies, one piece at a time. Aware that confusion may exist, Procter & Gamble has announced that it will be packaging Tide Pods in more child-resistant containers this summer.
"The packets used for Tide Pods look somewhat like gummy candies, marshmallow candies or even Asian jelly candies," notes Tom Vierhile, innovation insights director for Datamonitor. "This isn't the first time a product ran into trouble based on its similar appearance to candy. Camel Orbs Dissolvable Tobacco has been cited as being very candy-like in appearance. And new dietary supplements in formats like gummy candies and pieces of chocolate candy can also be confusing."
The introduction of Tide Pods and similar products has been eagerly awaited in the United States. Procter & Gamble, the maker of Tide Pods, was so confident in the product's success that it delayed the introduction of Tide Pods from August 2011 to February 2012 in order to be certain that it had adequate production capacity for the product. In the interim, a wave of similar products hit store shelves in the United States including All Mighty Pacs, Ajax Toss-Ins, Dynamo Toss-Ins, Fab Toss-Ins, Purex UltraPacks and Arm & Hammer Crystal Burst Power Paks.
"The current wave of innovation in laundry detergent packets is unprecedented, and a lot of industry players are placing huge bets that this is going to be the 'next big thing' in laundry detergent," notes Vierhile. For its part, Procter & Gamble reportedly spent eight years perfecting Tide Pods, and the company has set a goal of $300 million first year sales for the product. Procter & Gamble expects single dose laundry detergents to account for as much as 35 percent of the US laundry market over the next five to ten years, notes Datamonitor.
Companies in this article