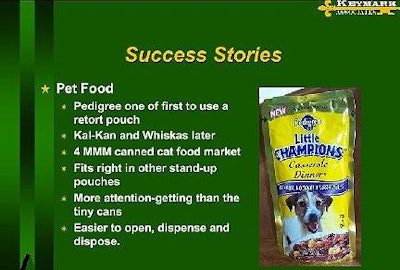 A Global View of the Retort Pouch was presented April 21, by Huston Keith, principal, Keymark Associates, to the Retort Pouch 2004 conference, sponsored by The Packaging Group.
Noting a huge potential worldwide, Keith believes that "Now it's our turn in the USA," pointing to double-, even triple-digit growth rates in the United States. He even calls retort pouches the "Hottest packaging market." He summarized the benefits and timing to retort packs' growth, especially now since consumers are buying. He also highlighted several retort success stories, including Pedigree pet foods (shown), tuna, soups, and precooked rice--including new products from Uncle Ben's and Zatarain's.
He listed key food processors and key U.S. converters for rollstock: Alcan, Chicago, IL; Smurfit-Stone Schaumburg, IL; RJR Packaging, Winston-Salem, NC, made by Specialty Films Div. Exopack; Sonoco, Hartsville, SC; Fres-co System, Telford, PA; and Cryovac div. Sealed Air Corp., Duncan, SC.
Along with a separate list of key retort packaging importers, Keith listed U.S. converters for pouches: Floeter, Elk Grove Village, IL; Kapak, Minneapolis; Valley Packaging, Green Bay, WI; TechniPac, LeSueur, MN; and Hood Packaging, Atlanta.
He also noted the key food processors, copackers and MRE producers: Ameriqual, Evansville, IN; Menu Foods, Toronto; Palmetto, Greenville, SC; Shoei Foods, Marysville, CA; Stegner, Cincinnati; Sopakco, Mullins, SC; and Wornick, Cincinnati.
He sees soup and baby food as potential markets for unbreakable, easy-to-open and reclosable retort pouches. Keith also suggests opportunities for innovation via retortable tube pouches.
For further information, contact Huston Keith at 770/579-5979, or via e-mail.
Retort pouch study
The U.S. Market for Convenience Packaging and Serving Size Trends by market research publisher Packaged Facts shows that applications for retort packaging, in particular, are gaining more ground in the consumer food market.
Published in late April 2004, the report acknowledges that the reliance of U.S. consumers on conveniently packaged, ready-to-cook and eat food products is nothing new.
What is evolving, however, are packaging and individual-serving-size precooked products offering greater freshness, better taste, and preparation efficiency.
Widely used by the military for over 25 years, retort packaging allows food manufacturers to package foods in shelf-stable pouches. Products like precooked rice, and even ground beef, are beginning to hit mainstream markets and are sold without refrigeration. Composed of layers of foil and film and referred to as "flexible cans," the pouches can keep food products fresh for extended periods, some longer than 18 months, according to the Packaged Facts study.
"European companies such as Parmalat opened Americans' eyes to the fact that perishable products don't necessarily have to be refrigerated," said Don Montuori, acquisitions editor for Packaged Facts. "Applying a technology such as retort packaging to mass retail will certainly ease consumer acceptance of shelf-stable, precooked products."
This new report is priced at $2곚 and can be purchased directly from Packaged Facts. Or contact Matt Seward at 301/468-3650 x205 or via e-mail.
Companies in this article