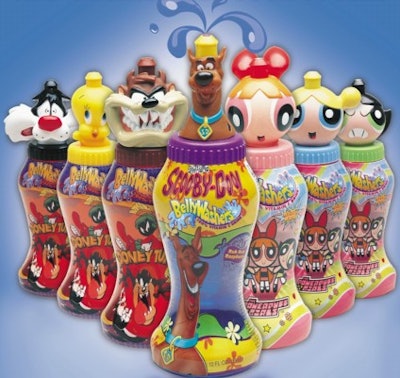 The toppers are molded at three factories in the Far East, notes vice president of sales and marketing Kathy Ver Eecke.
To keep sales steady, In Zone introduces new characters via the toppers into the line every 60 to 90 days.
Ver Eecke says that the marketing power of the three girls—Blossom, Buttercup and Bubbles—that were introduced in March '01 helped propel the products into the number one position among noncarbonated beverages sold at 7-Eleven convenience stores, according to the chain.
Ver Eecke says that "packaging is the purchase driver" for the products. The company has added a second supplier for the bottle-hugging polyvinyl chloride shrink sleeves, Seal-It (Farmingdale, NY), to its initial supplier, American Fuji Seal (Bardstown, KY). The bottle's pinched middle poses a shrink-sleeve printing challenge to compensate for the distortion, explains Ver Eecke. The PVC bottle, molded by Owens-Brockway (Toledo, OH), is reusable and dishwasher safe.
Superheroes ahead
The company is introducing special superhero toppers in late June, Ver Eecke says. Most notable is the fact these latest toppers will feature movable arms. The first to fly into stores is a Spiderman topper that will debut in late June. Scheduled for August introduction are Batman and Superman.
Another update is a combo Scooby-Doo/Shaggy two-headed topper—which replaces the Scooby-only topper—for the "mystery beverage," the flavor of which is not disclosed on the label. Also forthcoming, ahead of the new Jurassic Park 3 film scheduled for release on July 18, is a dinosaur-topped Belly Washer that will debut in late June.
In Zone was reported on in last year's coverage of the Food Marketing Institute Show. At this year's show held in Chicago in early May, the company highlighted their new Belly Washer offerings.
Belly Washers are also sold at Target and Kroger stores where they retail for an average of $2.99 or less, and at hotels and theme parks where they can sell for up to $4.99.
"Now that we have proven that the novelty beverage category is viable," adds president/CEO Jim Scott, "we'll continue to push the envelope." Future line extensions that the company hints at include beverages that target infants.
Companies in this article