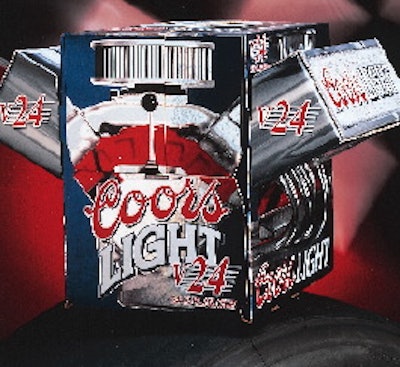 "The package has been doing really well for us," packaging R&D project manager Ray Toms tells PW. "We introduced it in Daytona in February and it's been going like gangbusters." Launched at the season-opening Daytona 500 race, the engine block package is part of a NASCAR motor sports tie-in promotion that was expected to run through May. Apart from the engine graphics and special die-cuts in the sides, the multipack itself is standard for Coors. It's produced by Graphic Packaging (Wayne, PA) via its trademarked Composipac process. First, a web of high-density polyethylene film is reverse-printed in four colors on a gravure press. The film is vacuum-metallized and laminated to 29-pt kraft board. Not only does the metallic background spice up the package, the film protects the graphics from scuffing and adds integrity to the package when cans are loaded cold and wet. The valve covers, shipped flat, are an option to the package that distributors can order. Inland Container (Indianapolis, IN) designed the covers and produces them by laminating 12-pt SBS, offset-printed in three colors plus a high-gloss water-based coating, to single-face E-flute corrugated. To avoid expensive foils or metallic inks, Inland simulated a chrome look by printing a carefully orchestrated blue and black duo-tone.
Companies in this article
Videos from Graphic Packaging Intl.