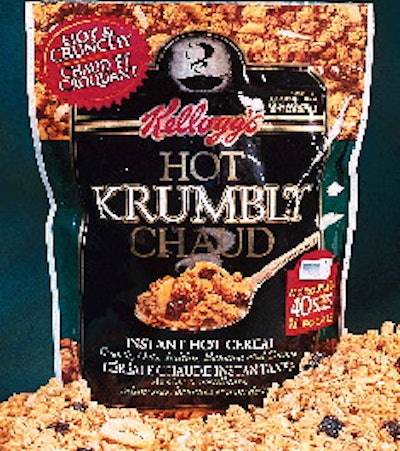 The Toronto-based firm began its test of the package/product combo in January in Quebec and the Maritimes. The 400-g package, which sells for $2.99 Canadian, is made from rollstock and the zipper profile is applied on-line by a contract packager using a Klockner Bartelt Medipak (Sarasota, FL) system.
Unlike most hot cereals, this one retains some crunchiness when it's cooked. "We've pretty much created a new category of cereal, and we wanted to create a splash around its launch," says Kellogg Canada's manager of product communications Joanne Doyle. One way to do that, she adds, is to "bring some packaging news to the category," though she's not saying what the packaging materials are.
Still unanswered, say observers who follow the cereal packaging business closely, are questions surrounding filling speeds, material costs, and the flexible pouch's ability to protect the product as effectively as the more traditional bag-in-box approach. Graphics, however, don't seem to be a problem. The pouch has plenty of pop. And it has every chance to strut its stuff, too: Self-standing corrugated displays are being used to introduce the pouched cereal.
Considering that supermarket managers are as fond of giving away floor space as Dennis Rodman is fond of courtside photographers, are the self-standing displays a good idea?
"The retail market is very much driven by what manufacturers are willing to pay to get their products in," says Doyle. "So I have a feeling we'll be successful." Does that mean slotting fees? "There are a number of ways for retailers to look at that issue," comments Doyle.