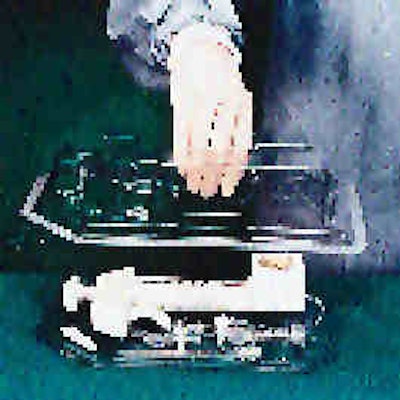 Manufactured by Plastofilm Industries (Wheaton, IL), the package consists of two thermoforms sealed by DuPont's (Wilmington, DE) Tyvek® lidding.
To unpack the product--an inflation system for balloon catheters--a clinician grips the product through a molded grip in an outer thermoform of Eastman Chemical's (Kingsport, TN) Eastar(TM) PETG copolyester. The package is turned upside down and the lidding removed. Then, while still holding a grip, the clinician uprights the package and releases some pressure, allowing the product and inner PETG thermoform to drop onto the work surface untouched. Such a process saves time by eliminating the need to physically touch the item before surgery, which would require resterilization.
Such a "controlled drop" is an unusual feature, according to Medex. "I've seen competitors' trays and I have not seen that feature on them," says Paul Kaminski, Medex's manager of automation and packaging engineering. Designed by Medex, the package was used to launch the product in January '96.
Companies in this article