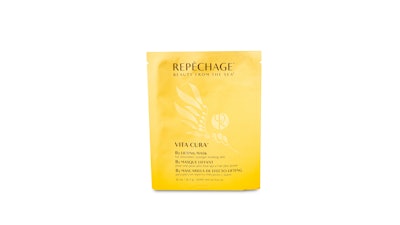 The Repêchage® brand of skin care products promises "Beauty from the Sea," and it delivers with its Vita Cura line of products based on sustainable, Maine-harvested seaweed (95 to 99% seaweed content). An upscale branch of this product line, titled the Vita Cura Gold collection, recently launched with what the company calls its Vita Cura B3 Lifting Mask. This is an at-home sheet mask that combines kappaphycus alvarezii extract and caesalpinia spinosa fruit extract to create an invisible film on the surface of a consumer's skin. This provides an immediate lifted and contoured appearance.
The face mask needed a single-dose pack that would simultaneously deliver on luxurious looks and nearly three-year's worth of shelf life. Supplier and converter LPS Industries, LLC leaned into the gold theme with high-quality flexographic printing satisfying the prestige-brand appearance. The gold printing was good enough to earn it a Gold in Printing in the 2022 FPA Awards, as well as a Silver Award in Shelf Impact. Meanwhile, the laminated structure of film, adhesive, and foil provides 36-month shelf life. 
"This pouch has an upscale, salon[-quality] shelf appeal and outstanding detailed printing with gold layered tones," says Paul Harencak, VP, LPS Industries. "[It uses] finely layered gold tones with [a] gold flood coat, and features distinct color separation and clean, detailed lines with reflective center image. We have a talented in-house graphics department, an eight-color wide print press, and we make and mount all of our own plates, so we control every aspect of the printing to finest of detail."
---
---
Converter and printer LPS also worked in concert with the brand owner's lab to conduct round-robin testing. It sent die line art for brand approval to ensure every detail of the image was correct, including the reflective center artwork achieved via detailed layering and blocking of the image while printing.
"We love the package—the look, the printing, and it's of great quality," says David Sarfati, COO of Repêchage. "We also love the way that the product has great longevity [shelf life] on the shelf for almost 36 months, so we're very happy with it. Consumers do, too, as we're selling it in more than 50 countries." PW
Companies in this article