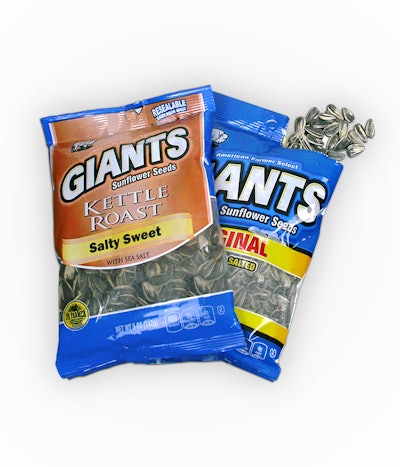 When seeking an enhanced flexible packaging solution, Giants Sunflower Seeds' goals were clear. "The packaging had to be a great fit with end-consumer usage behaviors and needs. So portability, pourability, and reclosability became the driving considerations for this on-the-go, sharable snack," says Carrie Strieter, Director, Strategic Marketing & Innovation for Zip-Pak.
The Zip-Pak Pour & Lok, a resealable packaging solution combining easy opening and pour spout functionality, emerged as the ideal solution for the brand, supply chain, and consumers. Giants' conversion to pouches featuring Pour & Lok resulted in higher production capacity, a reduction in processing speeds, and less scrap and downtime. This boost in overall efficiency was an important factor in enabling Giants Sunflower Seeds to expand their line to 14 flavors, all of which now use the Pour & Lok closure.
Unique to Zip-Pak and its equipment partners, Pour & Lok can be pre-applied using
Inno-Lok equipment and can run on standard vf/f/s machines with a simple side gusset modification. In addition to being an ideal solution for products like nuts and seeds, Pour & Lok technology is also well suited for products like cereal, grains, candy, and pet food or treats.
Companies in this article