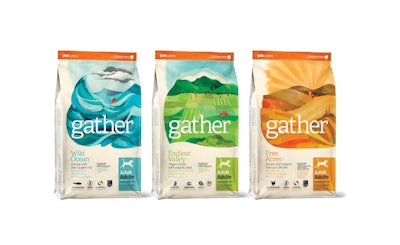 Petcurean, a family-owned Canadian company that creates premium-quality food recipes for dogs and cats is launching GATHER, a new line of pet food crafted from certified, organic, non-GMO, and sustainably sourced ingredients that will be packaged in flexible packaging made from sugarcane-based polyethylene. The project is a partnership between Petcurean, Braskem, and Peel Plastics.
The GATHER recipes include a Marine Stewardship Council (MSC)-certified cod recipe for dogs, an organic chicken recipe for dogs and cats, and a certified Vegan option for dogs featuring organic peas.
"As a company, we've always been committed to providing nutritious, quality recipes for pets using whole food ingredients, and with GATHER, we're taking our commitment one step further by meeting the growing consumer demand for complete responsibility and accountability," says Rick van Schagen, President at Petcurean. "We took the time to seek and find partners whose integrity, transparency, and sustainability practices mean we can deliver functional, whole foods from the earth and oceans to keep pets healthy, happy, and loving life, as naturally as possible."
Petcurean also went the extra mile with its packaging as well, using Braskem's I'm Green™ PE to create USDA-certified bio-based flexible bags, produced by Peel Plastics. "By using bags that are one-third plant-based, Petcurean has reduced its use of petroleum-based resources by 30 percent; for every 16-pound bag the company makes, it saves close to a four-pound bag worth of petroleum-based plastic material," explains Schagen.
Braskem's green plastic is made from sugarcane ethanol—a renewable and sustainable resource produced from Brazilian sugarcane—and a drop-in biopolymer substitute to conventional PE. According to Braskem, cultivation of sugarcane utilizes carbon dioxide and releases oxygen, which gives the material a negative carbon footprint.
Companies in this article