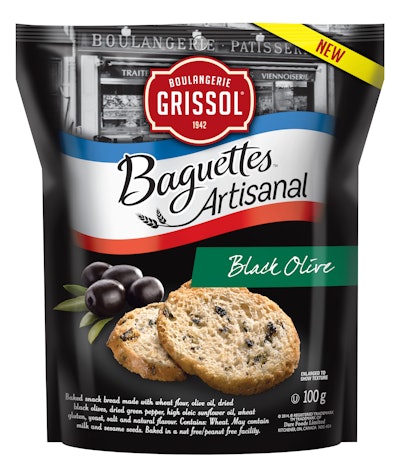 Dare Foods, based in Kitchener, Ontario, Canada, relied heavily on Sonoco to launch its new product line, as they wanted to move from a traditional bag-in-box format to a flexible stand-up bag to gain shelf visibility and communicate the high-end quality of its product. Sonoco provided technical support in development and startup, expertise in materials and equipment runnability, brilliant graphics capability, and speed to market.
"We chose to work with Sonoco due to their technical expertise," says Josh Richardson, brand manager at Dare Foods. "We looked at other suppliers, but Sonoco already had the materials, structure and equipment expertise to help us launch the product quickly and correctly. We are very pleased with the outcome. The package provides a clean look on the shelf, meets required shelf life, keeps our product fresh, and is easy to open and reclose. I think our customers in the U.S. are going to be very pleased."
The structure is described as a three-layer barrier lamination with graphics that are reverse-printed in 8 colors on a gravure press. Dare foods receives rollstock material from Sonoco and packages the product on a form/fill/seal system. The packages are distributed and merchandised in ambient conditions.
Sonoco's graphics team worked closely with Dare and their art house to set up the premium look, including the rich, premium black background and the beautiful shots of the product on the package. Feedback in Canada, where the new pack was first introduced, has been positive from both retailers and consumers, and sales are strong. Retailers like that the package stands out on the shelf and like the premium look driving premium-product sales. Consumers love the look and the reseal feature.
"We hope to have the same positive reception in the U.S.," says Richardson.
Companies in this article