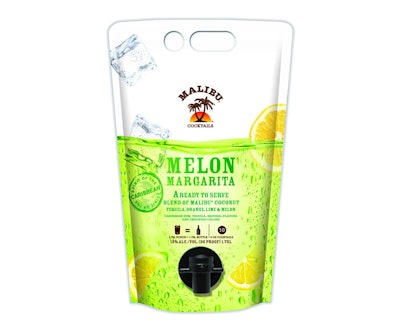 Purchase, NY-based Pernod Ricard USA has improved upon the functionality of its stand-up pouch format for premixed Malibu Rum Cocktails, with the introduction last summer of two new varieties: Caribbean Cosmo Light and Melon Margarita. Malibu says it was the first brand to market ready-to-serve cocktails in a stand-up pouch, when it launched the first four flavors of the line in 2010.
"Understanding the insight that consumers are looking for convenience, we used the pouch, as it is easy to carry and easy to pour, and it keeps the liquid cool when stored in a refrigerator or cool box," says Malibu brand director Lisa McCann. "The material also keeps the freshness of the liquid, and finally, our pouches are more environmentally friendly than the standard glass or PET package." McCann adds that the pouch offers an 85% smaller footprint than glass and can be recycled.
The 1.75-mL pouch design, which holds 10 6-oz servings, uses a proprietary multilayer film lamination and employs a leak-proof dispensing nozzle, sourced from an unnamed supplier. The newest iteration of the pouch has been updated with increased finger grips in the neck to make it easier to carry and a modified design that reduces the potential for leakage and ensures maximum consumer satisfaction, McCann explains.
Package graphics for the two newest cocktail combinations match the crisp, refreshing design originally created by The Brand Union. Designed to cohesively fit with the Malibu portfolio of products, the pouch graphics include the Malibu logo and employ the same fonts and lock-ups used on the standard rum line. Also maintained is the "Spirit of the Caribbean" stamp, which highlights the liquor's provenance, as well as the bright white background color.
Specific to the premixed cocktail line, graphics that replicate the look of the liquid product in a glass occupy the bottom half of the pouch. Floating in the clear translucent spirits, each brightly colored to represent the flavor, are sparkling ice cubes and slices of lemon, orange, or lime, depending on the variety. New Caribbean Cosmo Light, which replaces the original Caribbean Cosmo offering, also uses a callout on the top of the pouch that reads: "Only 100 calories per 4 oz serving."
McCann says all varieties in the premixed cocktail line will switch to the new pouch in April 2013, when the company plans to roll out a complete redesign of the brand. "The whole range will be changing at this time," she says, "with an updated logo, a new font, etc. Very exciting!"
Companies in this article