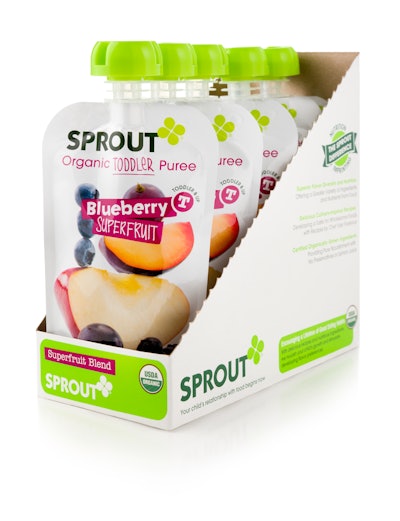 Organic baby and toddler food maker Sprout Foods, Duluth, GA, has taken the portable, flexible packaging for its pureed fruit, vegetable, and grain blends a step further in convenience with a new choke-free, twist-off cap and dispensing spout intended to encourage independence and self-feeding for tots.
"Moms told us through research that the squeezable pouch with the built-in spout and twist-off cap better met their changing needs," says Sprout vice president of marketing Geoff Stella. "Our change in packaging is to better serve those needs and offer more convenience."
Stella notes that Sprout was the first in the baby-food category to move from glass jars to flexible packaging in 2009. The bottom-gusseted pouch, a multilayer construction of foil and polypropylene, previously used a zip-top closure for resealability. This has been replaced with a colorful plastic "choke-free and tamper-evident" plastic cap, also resealable, supplied by Korean vendor and pouch converter KSP.
"The spout, combined with the lightweight, squeezable pouch allows children to eat our baby food by themselves," says Stella. "Older infants are usually developmentally able to eat straight from the pouch. Moms really like this aspect of our new package."
The new pouch is being used for Stage 1 (3.17-oz), Stage 2 (4-oz), and new Toddler Superfruit (4.22-oz) product varieties, for a total of 28 SKUs.
With the package structure change, Sprout also made adjustments to its pouch graphics to emphasize the brand's purity and ingredient focus. "One notable change is our logo," says Stella. "We changed the color scheme to improve on-pack communication at the shelf. Additionally, we've adopted a new way of communicating our ingredients. We're using a stacked approach with the various fruits and vegetables to communicate the blends in our recipes."
Sprout uses both hot-fill and retort cooking processes to maximize flavors and nutrients in its recipes. As Stella explains, this allows the company to offer recipes with just vegetables or vegetables with grains. "In Stage 2," he says, "we are the only brand that offers this. As a result, with Sprout, parents are not forced to serve their kids fruit at every feeding like with the competition."
Sprout baby and toddler foods in the new packaging launched in fall 2012 in 13,500 stores nationwide, in prices ranging from $1.19 to $1.79, depending on product variety.
Companies in this article