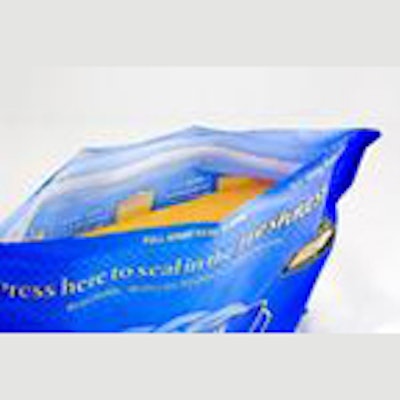 The slider has been the closure of choice in the cheese section of the store for the past decade. However, consumers with limited finger dexterity have expressed frustration with this closure, saying it can be difficult for them to operate.
Milk Link, a dairy farmer-owned co-operative in the U.K., may have found the answer to quell this frustration by introducing a hook-and-loop self-gripping fastener on flexible bags of its various cheese brands. The closure is made from food-grade, heat-sealable polyethylene.
The company worked with APLIX, a technology company, to attach the hook-and-loop closure system, called Grip Strip®, to the bags. The new closure system will be used on the majority of Sainsbury's Named Creamery pre-packed cheese and Milk Link's Cadog and Lockerbie regional cheese brands.
"We constantly talk to consumers and know that they have been unhappy with current packaging solutions for some time, as the zip format doesn't truly deliver for them," says Hamish Renton, Milk Link's marketing director. "The launch of Grip Strip® across the U.K. offers a new global dairy first, a 'gold standard' in cheese packaging.
Milk Link opted to use the hook-and-loop closure after Leatherhead Food Research independently verified earlier this year that a majority of consumers preferred Grip Strip® for cheese packaging. Seventy percent of consumers questioned in focus groups found Grip Strip® to be the easiest package to reseal, 64% said it was easier than other cheese packages to re-open once it had been resealed, and 80% believed it was the easiest package format for the entire family to use.
Companies in this article