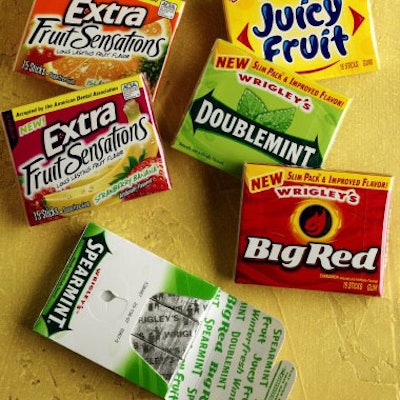 Wm. Wrigley Jr. Co. has announced plans to replace the foil wrappers for five of its most popular chewing gum brands with a paper alternative, The Chicago Sun-Times reports. The company was among the first to use the aluminum-based packaging for stick gum nearly 100 years ago.
Wrigley says the switch is expected to save nearly 850 tons of aluminum per year, keeping the equivalent of 60 million cans out of landfills annually. The cost of the paper packaging versus foil is said to be 13% less, while providing the same shelf life and barrier properties.
Notes an article on FoodProductionDaily.com however, "industry analysts may be perplexed as to the clear cut environmental benefits of the swap from foil wraps to paper by Wrigley as aluminum is known to be one of the easiest and most commonly recycled packaging materials."
Wrigley says it plans to keep the silver foil wrappers on its Extra brand gum and the colored foil wrappers on its 5 brand.
The initiative is part of Wrigley's global sustainability commitment, which includes the use of new materials and designs to reduce the impact of its packaging materials. Earlier innovations include the company's Bottle Pack, which reduces packaging by 20% versus blister packs, and a slim, 15-stick carton that cuts package material use compared with the previous foil-and-film wrap packages.
Companies in this article