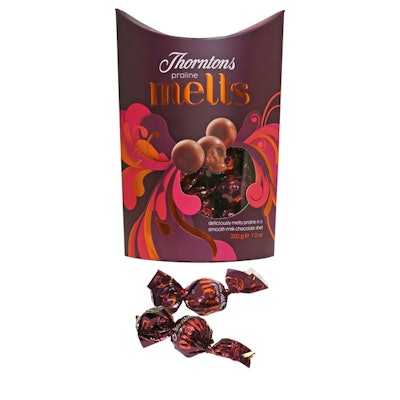 Innovia's NatureFlex™ NM film from is a cellulose-based, biodegradable film manufactured from renewable wood pulp, metallised in-house, and suitable for home composting. This is achieved because the level of metal is so small—less than 0.02%—that it only slows the film's degradation by a matter of days without interfering with its biodegradability in any other way. Other modified coatings ensure excellent metal lay-down and adhesion providing a very high moisture barrier. It is this high barrier that keeps Thorntons Melts in premium condition.
Mark Aitchison, Thorntons' Packaging Development Manager, outlined why the confectioner chose NatureFlex™ in this application. "We opted for metallised NatureFlex™ NM film to wrap the Melts as it offers a tight twist-wrap for this product, has an attractive metallic finish, protects the amazing flavour and texture of the chocolates, and is made from sustainable materials."
NatureFlex™ begins life as a natural product – wood. The wood pulp is sourced from managed plantations from referenced suppliers operating Good Forestry principals (FSC or equivalent). NatureFlex™ films typically have a renewable biobased content of some 95% according to ASTM D6866.
It also offers advantages for packing and converting such as inherent deadfold and anti-static properties, high gloss and shine, resistance to grease and oil, good barrier to gases and aromas, receptive to cold seal adhesive and excellent twist properties. The converter of the NatureFlex™ film in this application is FFP Packaging Solutions Ltd.
Launched earlier this year, Thorntons Melts are melty pralines encased in a smooth Thorntons milk chocolate shell, which are perfect for sharing. They are available to purchase at Thorntons stores, selected supermarkets nationwide, and online.
Companies in this article