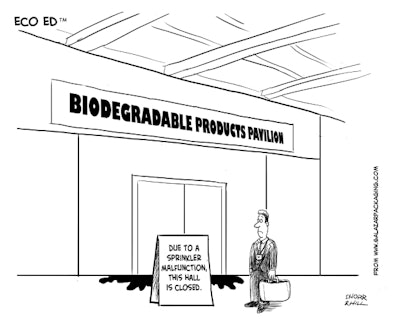 ■ Wal-Mart recently recognized Winterborne, Inc., for sustainable packaging with an award for EnviroShell, a 90% recyclable and recycled clamshell package.
■ Stretch film producer NO.EL introduced a patented technology for creating standard stretch film rolls without the typical cardboard tube core inside. The company developed a technique for winding stretch film material into an industry standard sized roll so that the stretch film itself supports the roll's structure. The system reduces cost and waste. For coreless roll samples or further information contact Bruno Montesano, Nuove Sales at 310/670-0576 or Montesano@nuovesales.com.
■ A proposed new ASTM International standard, Practice for Marking Plastic Products for Identification in Reuse and Recycling, will facilitate more efficient recycling of a variety of post-consumer plastics. For technical Information, contact Alan D. Kupfer, Georgia Gulf Corp., Plaquemine, LA. (Phone: 225/685-1257; kupfera@ggc.com).
■ Pregis Corp. introduced Astro-Bubble Green, air-cushioning bubble packaging containing up to 40% recycled content.
Companies in this article