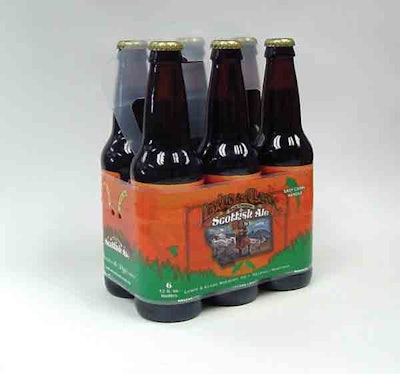 "This unique and exciting package is helping us launch our Miner's Gold brand quicker and more economically than with paperboard carriers," says brewery owner Max Pigman. "We also know that our customers appreciate the environmental benefits of the new packaging. It's a minimal design that generates less waste than paperboard carriers."
The film makes the pack waterproof and capable of direct chilling in ice. Pigman notes that the format permits greater production flexibility because Lewis and Clark can use generic cases to receive the bottles. Then the company packs as needed versus storing preprinted, product-specific paperboard carriers.
The package is produced in a two-step process. First, a double-thick Hi-Cone photodegradable low-density polyethylene top-lift ring carrier is applied to the glass bottles. Next, a wraparound band from ITW Auto-Sleeve made of 4-mil LDPE film is stretched around the six-pack to secure the bottles and prevent them from hitting against each other. Flexo-printed in seven colors plus varnish, the band also provides a high-impact billboard effect.
"We're getting good exposure from this new packaging," says Pigman.
Companies in this article