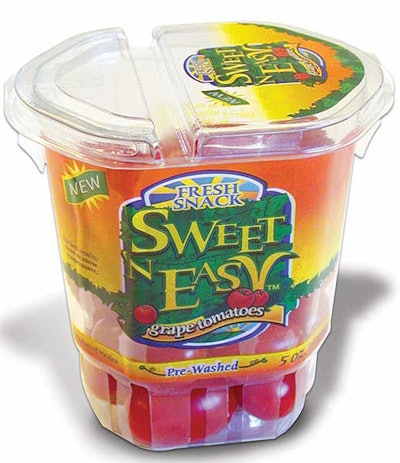 Packaging is done by Andrew & Williamson Sales Company. Based in San Diego, the company is a grower and shipper of fresh fruit and vegetables.
A snap-fit top, hinged for easy reclosure, makes the clear package suitable for "on-the-go" consumption. It fits into a car cupholder to provide additional convenience. Front, back, and top pressure-sensitive film labels are applied by a machine from Labeling Systems Inc.
The produce package is available in test markets in Chicago, San Diego, Portland, Seattle, and Philadelphia, reportedly at prices ranging from $1.99 to $3.99.
DuPont anticipates introducing other healthy produce under its Sweet 'N Easy brand name. While it's unusual for a packaging supplier to launch a retail product of its own, it's understandable given DuPont's investment in science and technology. "Our goal is to bring improved packaging to the marketplace, and this takes teamwork," says Mike Hiteshew, DPS global manager for Perishable Food. "It means working with brands such as Sweet 'N Easy, and increasing our orientation toward 'gain-sharing' or 'intellectual property sharing' for broader impact. Working as members of an integrated supply chain, we all maximize our revenue and give customers exactly what they want."
DPS believes that it will be better able to serve retail customers with first-hand experience in getting a retail product to market.
Companies in this article