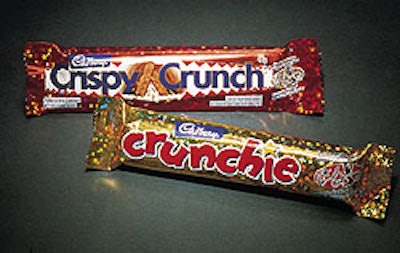 Supplied by Sonoco, (Hartsville, SC) the wrapper incorporates holographic film from Spectratek (Los Angeles, CA). The package includes the holographic-patterned web laminated to metallized polypropylene from QPF Performance (Atlanta, GA). The thickness of each web is proprietary. The pack was created as part of an integrated sports marketing promotion in the summer and fall of 2000.
Although Cadbury has used holographic packaging in the United Kingdom, this package is its first Canadian application, according to Peter Widdis, Cadbury brand manager. He adds that the candy bar package was one of the company's most successful sports promotions ever.
The wrapper created for Toronto-based Cadbury Trebor Allan took home two awards for Sonoco: the silver for Flexible Packaging Graphics, and another silver for Brand Marketing-Brand Rejuvenation.
"Sonoco is Cadbury's exclusive flexible packaging supplier and was a natural choice for the project," says Widdis. "Their experience with holographic film brought our designs to life at the point of sale." The candy bar packs are filled by Cadbury in one of its Canadian facilities. No new machinery was necessary.
Companies in this article